You've decided to venture into the wonderful world of scrapbooking! Congratulations and welcome to the inner circle of crafting geniuses. We're here to help you get started on your journey of crafting and creating handmade brilliance of your very own.
This tutorial contains valuable resources and information about getting started in scrapbooking. The content comes from myself and well-seasoned craft veterans who have found this information indispensable for our scrapbooking. Once you understand the basics of what is needed to scrapbook, you'll avoid wasteful purchases and acquire only items you will use, need, and enjoy.
Scrapbook.com Easy Albums Kits
Before we jump into the exciting world of scrapbooking, and all the fun tools and supplies that go along with it, let us tell you about the perfect product for first-time scrapbookers. It's called Easy Albums. It's an absolute essential bundle for those who want to make and preserve memories in a quick, easy, affordable way.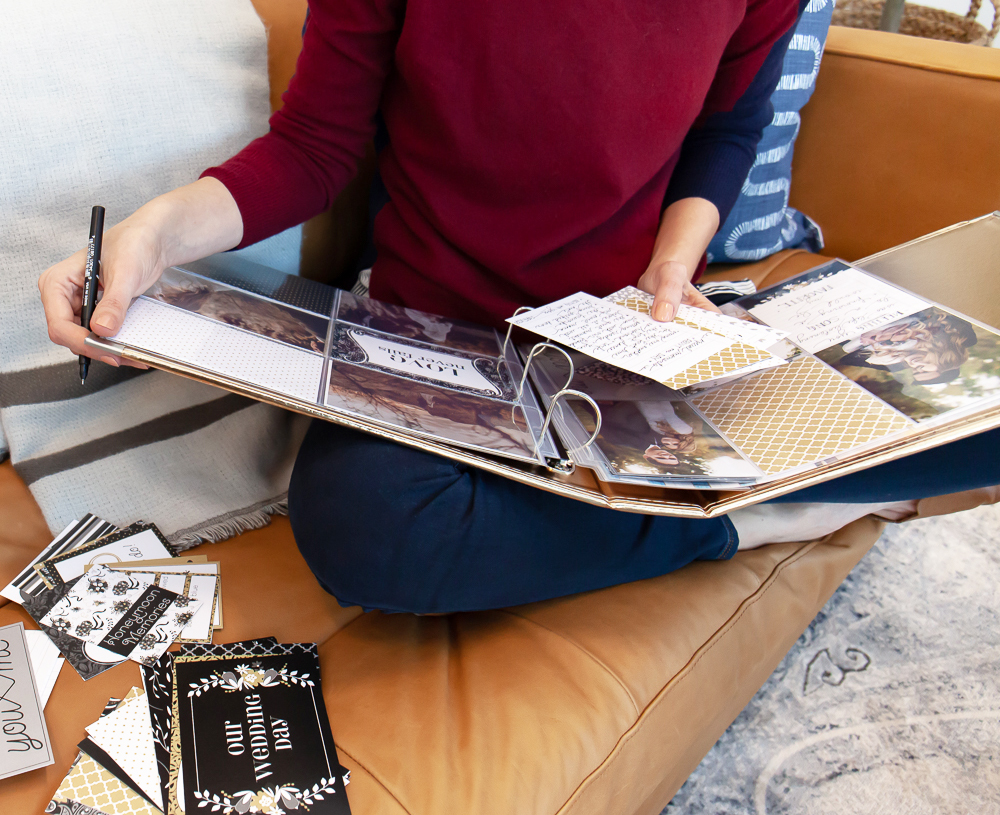 No artistic ability or crafting experience required. This kit comes with everything you need to create a one-of-a-kind photo and memory album - all you need is photographs! The Easy Albums Kits come with a beautiful faux leather 12 x 12 album, a large assortment of themed cards, lined journal cards, page protectors, and a pen. Sit down in one afternoon or work on it a little bit at a time until you have a beautiful, organized reminder of happy moments in an album that will last for generations.
So if you're new to scrapbooking and want to do it the easiest way possible, start with an Easy Albums Kit. For those looking for a more traditional approach, check out our essentials and upgrades when it comes to scrapbooking supplies.
The Absolute Essentials
An Album
The first thing you will absolutely need is an album. An album allows you to safely store all of your completed scrapbook layouts that showcase photos, stories, memories, artwork, and anything else you've created on a page.
Standard 8.5" x 11" and 12" x 12" albums work well to display photos and memorabilia as do smaller mini-albums. Your album decisions should be based on personal preference - there is no right or wrong album! Popular album binding options are:
Three-ring – a notebook-style album with a metal ring mechanism that holds page protectors in the album. Album contents can be adjusted easily by opening and closing the rings.
Post-bound – an album with two to three metal screw and bolt-type posts that hold the album contents in place. The album must be disassembled to add or remove pages.
Strap-hinge – Though not as prevalent as 3-ring and post-bound albums, these albums have two to three nylon straps than lace through sturdy staples on the pages designed specifically for strap-hinges. The background of these specialty pages is white and will need colored cardstock added for color.
Click here to view all albums in the Scrapbook.com store.
Page Protectors
Page protectors shield your layouts from everyday wear and tear while holding them securely in an album. On average, either 8.5" x 11" or 12" x 12" albums will hold 35 full page protectors. If you design "lumpy layouts" (those with multiple thick layers of cardstock, foam, or dimensional embellishments like flowers, sequins, etc.) you will typically fit less.
Only use non-vinyl, archival-safe protectors to avoid damage to your photos and memorabilia. You can choose either clear (shiny) or non-glare protectors. Both offer advantages: clear protectors bring out the true and vivid colors in your layouts while non-glare protectors are easier on the eye. Some albums even include some page protectors with the purchase.
Click here to view all page protectors in the Scrapbook.com store.
Cardstock
Cardstock is a thicker quality than ordinary paper and can be textured or non-textured. Cardstock provides a sturdy layout foundation for your photographs, memorabilia, and embellishments and is both versatile and affordable. There are hundreds of colors available that make it possible to create beautiful color combinations in layouts and accent your photographs or artistic abilities.
Every scrapbooker should have a good supply of black, white, and kraft cardstock; these are used regularly in layouts.
For all other colors, I suggest you begin scrapbooking with a moderate selection of hues (colors) until you get a feel for your own personal style and color preferences. Most paper companies offer cardstock multi-packs. These packs allow you to experiment and sample a variety of cardstock colors without paying a higher price for individual sheets. Interestingly, the colors many Scrapbookers eventually adopt are not the colors that first grab their attention. Once your supply of a particular multi-pack color is depleted, you can restock with individual sheets of cardstock or purchase popular paper pads.
Tip: Bazzill Basics Paper has a textured finish that is an excellent base layer for scrapbook layouts.
Click here to view all cardstock in the Scrapbook.com store.
Patterned Paper
Patterned paper is a lightweight paper with solid printed color or patterns and/or shapes that add color, depth, and themes to support your layouts. For layout stability, it's always a good idea to use a piece of cardstock behind your patterned papers to create a strong foundation.
Tip: If you are using a "strap hinged" album, you won't need card stock for stability, but you may want to still use it for a good pop of color.
If you decide to use patterned paper as your entire background for photos and memorabilia, choose subtle colors and patterns so they don't overpower your photos. An option for bright and bold patterns is to use them in lesser amounts in layered strips, photo mats or borders. Then your photos, and not the patterned paper, will be the focal point of your layout.
Printed, solid-colored cardstocks usually have a white core that is covered with ink at the time of printing. This cardstock, when torn, has the white core showing through at the tear line. This torn edge adds another layer of contrast and definition to a scrapbook layout.
Companies that specialize in patterned papers often make kits from their coordinating paper lines. These kits can include one of each patterned and solid paper, stickers, die-cut shapes and sayings, journal cards (for writing out memories and explaining photos) and more. They are a great way to coordinate or theme your layout!
Some of Jill's top picks in paper kits:
Click here to view all individual sheets of patterned paper in the Scrapbook.com store.
Adhesives
When the right adhesive is used on your project, it holds everything in place for future generations to enjoy. Adhesives are available in double-sided tabs and tapes, liquids, and glue sticks. The type of adhesive you choose depends on what you are gluing and where you are gluing it.
Look for adhesives that are acid-free, non-toxic, and free of strong odors. It's also important to read product labels to ensure they're photo safe.
Tip: It isn't generally necessary to coat the entire backside of anything you glue to a layout. Think less is more. You can put a portion in each corner and some in the center, and it will stay in place just fine. If however, the piece you are gluing is bulky and/or heavy, you may need more adhesive.
Some of Jill's top picks in adhesives:
Click here to view all adhesives in the Scrapbook.com store.
Adhesive Removers
Sometimes you put something on your layout and it just doesn't look quite right. Enter adhesive removers! When you put adhesives in the wrong place on your layout there are special glue erasers that can remove most of the unwanted substance from the paper surface.
Liquid removers will eliminate adhesives and sticky residue from papers as well as your crafting tools like scissors and punches. Un-Du is an all-purpose, liquid adhesive remover that every scrapbooker needs in their toolbag for an accidental oops!
Paper Cutter or Trimmer
Like a painter needs paint and paintbrushes, a scrapbooker needs a paper trimmer! Scrapbookers use paper as their artistic medium, which makes a paper cutter one of the most important tools for completing brilliant layouts.
Precision and ease are two important factors when considering a good paper cutter. Not all paper cutters are created equal. Higher-end trimmers may be pricier but you'll probably be happier with them because they are durable, precise, and easy to use. There are five types of paper trimmers available (and no, scissors are not paper trimmers):
Rotary cutter – cutting is done with a circular disc located in a sliding mechanism. The disc makes it possible to cut forward or backward; some brands are self-sharpening.
Straight blade cutter – a single-sided blade encased in a sliding mechanism cuts in one direction.
Single-edge razor-blade trimmer – this cutting mechanism consists of an arm that holds your paper and houses the blade shuttle (the razor blade is latched safely inside). The arm doesn't cover up your cutting edge so you can see exactly where the razor blade will cut. Blade cuts in one direction.
Dual straight-blade cutter – the mechanism is similar to the single-edged straight-blade cutter but the blade is two-sided so it can move forward or backward.
Moveable-arm cutter or guillotine-style cutter – one long blade runs the length of the cutting arm or handle and gives a clean cut. Some brands are self-sharpening.
Click here to view all paper cutters and trimmers in the Scrapbook.com store.
Scissors
Scissors allow scrapbook artists to manipulate, transform, and incorporate papers, fibers, fabrics, and ribbons into their layouts. A good pair of scissors will be fine-tipped, well-made, and make very precise cuts. They should also cut through a variety of materials so that one or two good pairs will do all the work.
Click here to view all scissors in the Scrapbook.com store.
Craft knife
A craft knife is an X-ACTO®-style cutting tool that is useful for intricate cutout work in die cuts, letters, punched pieces and paper piecing. Craft knives are razor sharp (be careful!) and most are retractable to avoid unnecessary injuries!
Click here to view all craft knives in the Scrapbook.com store.
Self-Healing Cutting Mat
Before you get started on any craft project, you'll want to make sure you're protecting the surface you're working on. A self-healing cutting mat protects your tabletop or desktop from any sharp object such as a craft knife blade, paper piercer or eyelet setter.
Click here to view all craft mats in the Scrapbook.com store.
Rulers
Never underestimate this timesaving tool of precision. Rulers help you measure accurately and help you make clean, straight lines. A nice straightedge ruler is perfect for most scrapbooking tasks. Consider a ruler that has a centering feature and holes for stitch placement. A centering ruler has the traditional 1" to 12" marks but also has a 0" mark at the 6" point of the ruler, which provides fast and efficient centering on your projects. Rulers are usually included in cutting mat systems or kits or can be sold separately.
Click here to view all rulers in the Scrapbook.com store.
Black Ink Pens
Black pens are foundational tools that will transfer the artistic designs in your head to the layout creations on your page. Use them to draw letters, journal ideas, or add pen-work (doodling) to layout pieces.
Because black pens cover a wide range of artistic purposes, it is better to invest in various tip sizes for different tasks. Some of your projects will necessitate thin lines, while others you may prefer bold, thick lines. Quality pens will contain pigment ink that is acid-free, archival-quality, waterproof, non-bleeding, and quick-to-dry.
Tip: If you are planning on buying just one pen to begin with, try starting with a .5mm fine tip pen, which is perfect for lettering in a scrapbook layout.
White Ink Pens
Sometimes black ink won't always get the job done in a colorful (or dark) themed layout. To write on a dark or colored cardstock page, you'll need a white ink pen.
Tip: Only one pen gets Jill's mark of approval each and every time, and that's the Signo white ink pen.
Colored Pens or Pencils
Colored pens or pencils are an inexpensive way to alter the overall look and feel of your layout. Scrapbookers can quickly add energy and distinction to any background, letter, stamped image, or die cut with an application of color.
A basic set of colored pens or pencils that coordinate with your favorite cardstock colors is all you need, at first.
Tip: Try chalk pencils or watercolor pencils for a new, exciting look.
The more you get into scrapbooking the more you will want colored pens for titles, journaling, and doodling. Before investing in a colored pen set of any particular tip style first try out that style pen in black. If you don't like how the black ink looks on your layout or don't think you'll use the pen very often, you won't have to deal with buyer's remorse for a whole colorful set that will sit unused in a drawer somewhere.
Click here to see all pens and pencils in the Scrapbook.com store.
Photo corners
Photo corners hold your valuable photos for display without damaging, altering, or permanently affixing them to the layout. They allow easy removal and are ideal for photo preservation. You can find them in clear, black, gold, silver, white and a whole rainbow of colors to add some real pizzazz to your layout.
Tip: Some scrapbookers may argue that photo corners are not an essential tool in scrapbooking, because you can simply apply adhesive to the back of a photo for display. My experience has been that using photo corners on non-digital photos saves time and avoids headaches and heartaches.
Think about the long-term effects of adhering photos directly to your layout, especially if the photos are one-of-a-kind heirlooms. If you ever need a scrapbooked photo separated from a layout, and it's permanently affixed, you've got a problem. If you try to remove it, you risk damage to the photo and the layout. If you don't mind your photos being permanently adhered to your layouts, use adhesive to your heart's content, but consider keeping some photo corners on hand for heirlooms or irreplaceable photos.
Stapler and Staples
Staples can be often overlooked in scrapbooking but they can be used to attach paper, ribbon, titles, paper strips, layers, and a bunch of other things to your backgrounds. Any office-supply style stapler and staples will get the job done. You can even find colored staples that are fun and interesting to use on layouts too. There are also larger staplers and decorative staple bars that are perfect for scrapbooks and cards.
Click here to view all staplers in the Scrapbook.com store.
Paper Punch/Hole Punch
From time to time you'll find a need to punch holes in paper, tags, borders, tabs, etc. for decoration and for tying them to your layouts. A standard hole punch from an office-supply store works just fine and gets the job done. Later, you may want to purchase a tool or tools that punch different sizes of holes. The We R Memory Keepers Crop-A-Dile line includes several options in sturdy, versatile punches.
Tote or Bag
Once you've amassed all these amazing supplies, you will need a convenient place to keep all of them. If you attend crops, which are events where a group of scrapbookers gather to work in a social circle on their projects, you will need a tote on wheels. Every seasoned scrapbooker that I polled said they wished they had started with a large tote because they grew out of several smaller ones before ending up with a large tote anyway.
Click here to view all totes in the Scrapbook.com store.
The Upgrades
Every scrapbooker's essentials list will have additional materials or upgrades depending on the unique style of the individual. The items on this Upgrades list might end up being truly essential for you. The more you learn about scrapbooking, the more personalized your tool and supply list will be. These upgrades will speed up the scrapbooking process and also help you turn your layouts into works of art.
Brayer
The adhesive from a glue-stick needs even pressure to join papers together and a brayer is the tool that can do this. Brayers are also great for rolling large swaths of ink onto paper or over stencils. A Speedball Brayer is a solid option with an easy-to-grip handle and a roller release for cleaning.
Tip: Wrap the roller with clear plastic wrap, bubble wrap or rubber bands to help get unique effects with ink on paper.
Embellishments
Embellishments are to layouts like accessories are to clothing. They can add interest, texture, depth/dimension, color, sparkle, definition or flow. Ultimately, embellishments make your photo(s) stand out. Embellishing can be done simply with pieces of cardstock or patterned paper torn, inked or crumpled.
Embellishments can include but are not limited to: Brads, ribbon, string, paint, inks, stamped images, chipboard letters and shapes, stickers, die cuts (papers cut into shapes and images), wire, rhinestones, buttons, charms, fabric, silk and paper flowers, sequins, felt, glazes, etc. You can see that this list could go on and on. Layout samples showing how embellishments were used can be seen in the Scrapbook.com gallery.
Click here to search all embellishments in the Scrapbook.com store.
Craft Mat or Craft Sheet
It makes sense to protect your craft table and desktop and a craft mat is the best solution. Nothing sticks to or penetrates a craft mat surface! The slick, non-porous material withstands high temperatures and repels liquids. It's perfect for use when stamping, embossing, ironing, painting, and even baking! It resists embossing powders, inks, candle wax, soap chips, paint, and hot glue. Even solder won't penetrate or distort the smooth-as-glass finish. Any excess melted product, once cooled, can be easily peeled off. Clean-up is quick and easy, so the mat/sheet can be used again and again.
Here are some of Jill's craft mat recommendations:
Click here to view all craft mats in the Scrapbook.com store.
Distressing Tools and Supplies
Distressing is the art of turning something new into something that looks aged, weathered and/or distressed. Distressing is done with files, sandpaper, steel wool, special hammers, inking, tearing, crumpling, wrinkling, rubbing, etc. Some projects just need a little help to "look their age" and the right tools and supplies make the process easier for scrapbookers and cardmakers. Tim Holtz makes some super simple paper distressers. Find them here and here.
Alphabet and Image Stamps
Clear acrylic or photopolymer stamps help you easily see where you will be placing theme-related words and images on your layouts. I rarely add people or animal images to my layouts because I want the viewer's attention to be drawn to the photos, but use any stamps that you feel are right for your project! If you purchase clear stamps, you will also need an acrylic block to attach them to for stamping.
Click here to see all stamping supplies in the Scrapbook.com store.
Stamping Ink
What are you going to do with stamps and no ink? You'll need a variety of colorful pigments for getting stamped images and inky swirls onto your scrapbook layouts. Stamp pads can be filled with water-based ink, chalk ink, hybrid ink, clear ink (to make the image a shade or two darker than the paper being stamped) or permanent inks. If you desire the images on a layout to last for many years and not fade, you'll want to get a stamp pad filled with acid-free, fade-resistant ink.
Click here to see all stamping inks available in the Scrapbook.com store.
Chipboard Stickers
Chipboard is extra thick cardboard that can be painted and/or decorated to match the paper and elements in a layout. The beauty of chipboard is that letters and shapes often come in colors, metallics, and patterns that match paper collections. They come in a variety of styles, sizes, and colors that can fit the needs of any project you're working on.
Click here to browse all chipboard stickers in the Scrapbook.com store.
Storage/Organization Containers
You'll soon discover that craft supplies multiply and take on a life of their own. Sooner or later, you'll need a good way to organize and store your treasured supplies between projects. Some of the true necessities are paper trays or holders for 12 x 12 cardstock and patterned paper, desktop carousels for tools, drawers and bins for embellishments, etc. Basically, figure out how much room you have and how you want to organize your supplies.
Click here to browse storage and organizational products in the Scrapbook.com store.
Check out this FREE 27 Lesson Class: Get Organized by Jill Davis, founder of Scrapbook.com
To see real scrapbooking rooms, visit the Scrapspace section of the Scrapbook.com Gallery.
We hope you've enjoyed this detailed guide introducing you to scrapbooking essentials and upgrades. Learn more by reading scrapbooking articles and taking some of our free classes to learn about trends, techniques, and more!
---