How does Scrapbook.com know what products you want to see in the store each year? Great question! We are lucky enough to have one of the biggest and longest-running creative trade show events occurring in Phoenix, AZ, which is just a few miles from our offices.
Creativation is a huge convention-style event that attracts some of the best brands, manufacturers, product designers, artists, stores, and tons of other creative professionals for product releases, demonstrations, classes, learning sessions, and so much more.
This year, Scrapbook.com is showcasing 20 amazing new products that were receiving lots of buzz and excitement at this year's Creativation 2020.
OK, you caught us - we chose more than 20. But that just means more amazing BONUS products to get excited about, so stick around till the end!
The Stamp Scrubber by Picket Fence Studios
What's the one problem that stampers face when combining ink and stamps? They get dirty! Picket Fence Studios knows your struggle and has designed an amazing little tool that's going to get your stamps cleaner than you've ever seen them.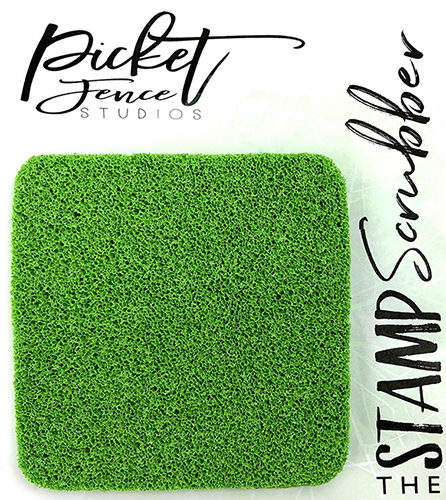 The strategic, textured design of the Stamp Scrubber is one of the features that makes it such a whiz at getting into the nooks, crannies, and grooves of your clear or red rubber stamps. With just a little bit of water, this fabulous green square expands by roughly 20% of its size to allow easy maneuverability around your inky stamps. It goes from a 4" square to a 5" scrubber with just a little bit of liquid - amazing!
The 7" Make Art STAY-tion by Wendy Vecchi for Ranger Ink
Last year's buzz at Wendy Vecchi's Creativation booth centered around her revolutionary new workspace: the Make Art STAY-tion. It was such a hit with crafters everywhere (and still is!) that Wendy has done it again. This year, she debuted a miniaturized version measuring in at 7" x 7". Card makers, Bible journalers, art journalers, and all other small project crafters will quickly understand why this is an absolute must-have tool for creating.
While the flexible magnetic rule has also been slimmed down to 7" for the board, the magnets are the same big, sturdy, strong size as the originals. There are also some must-have accessories that you'll want to keep an eye out for soon, like a magnetic stamp positioner! As much as you liked your original STAY-tion for portability, you're going to love this one even more!
The Magic Iris Die Set from Lawn Fawn
Another year, another genius interactive die set from Lawn Fawn! This year's amazing new product is their Magic Iris Die set, which creates a 3-quadrant telescoping feature that opens and closes to reveal a hidden surprise.
The fun arrow tab shows the card recipient how to operate the feature, which pulls back to show what you've stamped or placed behind the window. Lawn Fawn has truly set the bar high as they continue to amaze crafters with interactive dies that make unbelievable cards.
The Big Shot Switch by Sizzix
Are you ready for the next big thing in die cutting machines? Because it's right here. This year, Sizzix, the name you know and trust as an industry leader in die cutting, is introducing the Big Shot Switch. This sleek, modern-looking machine in glossy bright white and chrome is electricity-powered with a simple 2-button system for easy operation.
It has a big, beautiful 9" wide platform with hidden compartment storage and accommodates everything from thin metal dies to Bigz steel rule dies and embossing folders. As an added bonus, this machine will fit platforms and cutting pads from smaller-sized machines, including the regular Big Shot and even the Sidekick!
With all the power and possibilities, it also unbelievably has a space-saving fold-up platform and measures only 15" x 6" x 6.5"! This fabulous system is the die cutting upgrade of your dreams!
The Deckle Trimmer by Tim Holtz for Tonic Studios
When Tim Holtz sits down and thinks, "what if..." or "wouldn't it be cool..." you know something amazing is going to come of it. That's what happened before he came up with the idea for the Tonic Studios Deckle Torn Edge Trimmer.
What makes this sleek black Torn Edge Trimmer hot and new? It combines the classic, vintage style of a deckled edge (rough cut) with the modern technology found in a guillotine paper trimmer (it looks just like his amazing Comfort Trimmer!). That makes for a completely organic torn look with no repeating pattern from jagged scissors.
Just think about the creative possibilities in mixed media, journaling, and card making when you can easily add a rough edge to your materials. Put down those pattern scissors and upgrade to a true piece of machinery in this revolutionary trimmer!
Surf Board Collection by Prima
It's time to relax, unwind, and sink your toes into the warm sand at a tropical destination. That's exactly how you'll feel when you're creating with Prima's newest collection - Surfboard! Leave ordinary life behind and enter a papercrafting paradise with seashells, swells, sun, and sandy shores.
In hues of Himalayan salt pink, coconut cream, and robin's egg blue, this is the vacation collection you've been dreaming about! Whether you escaped to an island getaway in Hawaii or just road-tripped to the coast for a little R&R, you will absolutely love creating with this bright and bold beachy collection.
Family Night Collection by Carta Bella Paper
There's something special about the whole family sitting down on a weeknight to share laughter and good times around a board game, movie, or activity. That heartwarming feeling is expertly captured in Carta Bella's Family Night Collection, designed by Steven Duncan.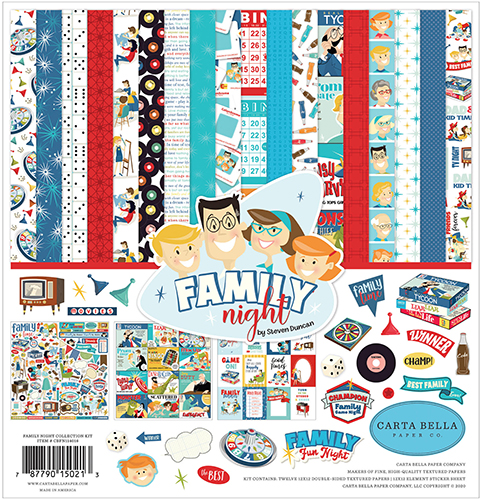 Even the most routine evening with your parents, kids, or family friends can turn into a night full of fun! Remember those special times when you create a fabulous scrapbook layout or fun photo album with these papers, stickers, and accents that have images like dice, bingo cards, movie listings, and more. Just like a game of Monopoly, the fun in this collection never ends!
Alcohol Ink Air Blower by Tim Holtz for Ranger
It's all about fluid movement and organic designs with Alcohol Inks when you get your hands on the Alcohol Ink Air Blower tool by Tim Holtz. Don't put your lungs in jeopardy by using an ordinary household straw when Tim has designed this simple little tool for moving alcohol inks on the page.
Let the air pressure move your Tim Holtz Alcohol Inks or the new Alloys on your page or panel until you achieve unbelievable designs! The fun (and the magic) happens when you sit down to play with the potential and possibilities found in these amazing supplies from Tim Holtz!
Stickles Glitter Gel by Ranger
If you're a fan of glitter, then you've undoubtedly amassed an impressive collection of tiny Stickles bottles for giving each of your projects a sparkling final touch. But what if you could get the Stickles look in a spreadable gel? Say hello to your new sparkly friend, Stickles Glitter Gel.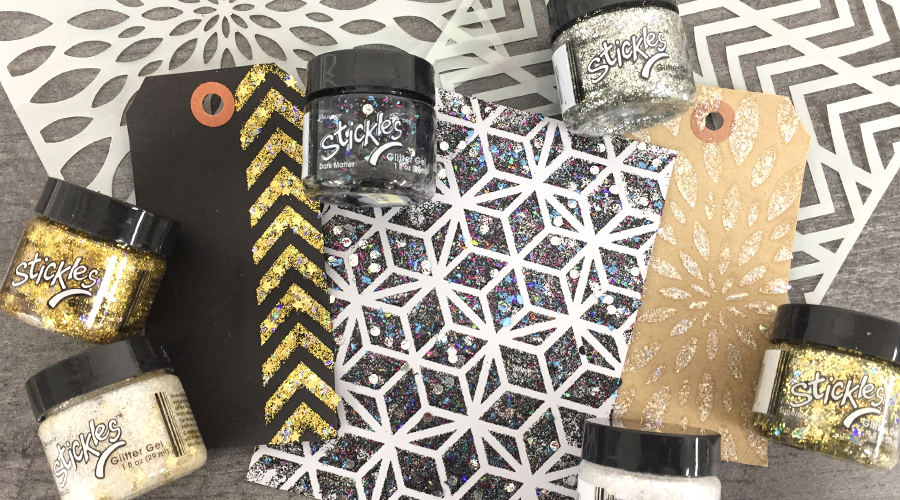 These small 1 oz jars of glittery Stickles Gels are everything you love about the original, but in a spreadable form for stenciling, mixed media, and more! As if that fact alone wasn't intriguing enough, they come in mesmerizing galaxy hues like iridescent Moon Dust, fiery Super Nova, and mystifying Dark Matter, to name a few.
Distress Ink Pad Storage Tin by Tim Holtz for Ranger
It should come as no surprise that another Tim Holtz product has made our list of Creativation favorites. It takes something truly spectacular to get us excited about storage and organization, but that something is the Distress Ink Pad Storage Tin. This impressive and affordable little metal tin with a plastic insert holds 15 of your favorite 3" x 3" Distress Ink or Distress Oxide Ink Pads in a convenient, portable storage device.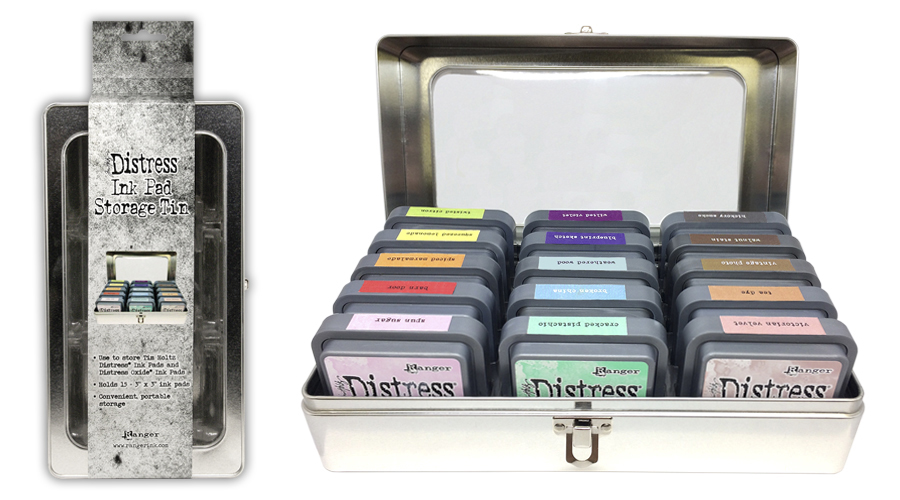 The plastic insert also ensures that each of the lids stays completely airtight to avoid drying out. If you have every color of Distress Oxide and every color of Distress Ink, it will take 8 of these tins to house your impressive collection, which is why they have a specialized lip for easy stacking and storage!
Toner Stamp Ink for the MINC by Heidi Swapp
Ever since its initial release, MINC fans have been wowed by toner-reactive products that they can use to foil all the things. You've used toner printers, specialty MINC sprays and paints, pre-printed Heidi Swapp products to get fun foiled designs on your projects. Well, folks, Heidi Swapp is changing the foil game once again with new Toner Stamp Ink* for use with the MINC.
*Please note this product has been discontinued
Use special toner-reactive ink to create your own ink pad and then stamp whatever shapes, designs, or sentiments wherever you want beautiful foiled designs - it's that easy! The hardest part will be choosing a fabulous color of Minc foil to use on your project!
We won't even mention the fact that she also released a 12" blush pink MINC alongside this genius new product. Foil stamping starts now with Heidi Swapp and the MINC!
Magical Forest Collection by Crate Paper
Transform your storybook adventures into reality with Crate Paper's whimsical Magical Forest Collection. You'll find all manner of woodland creatures and meadows filled with enchantment set against an elegantly neutral color palette. Fairytales, happy endings and magical moments come alive in this sweet collection.
This wonderful theme is perfect for capturing memories of your little adventurers and your fairytale romance all at the same time. There are cute little creatures alongside unicorns and a plethora of picture-perfect accents like bows, washi tape, clothespins, and puffy stickers to create a scrapbook layout that comes to life! When you wish upon a star, your creative possibilities will go far!
Heat Resistant Tweezers from Dress My Craft
For big fans of heat embossing, there's just one tiny issue that always seems to get in the way - it's HOT! It's hard to use your fingers to hold a piece of paper while a heat gun is blasting away at your creation - they're right in the line of fire! Dress My Craft has designed specialized Heat Resistant Tweezers to make it a little cooler to get your heat embossing done.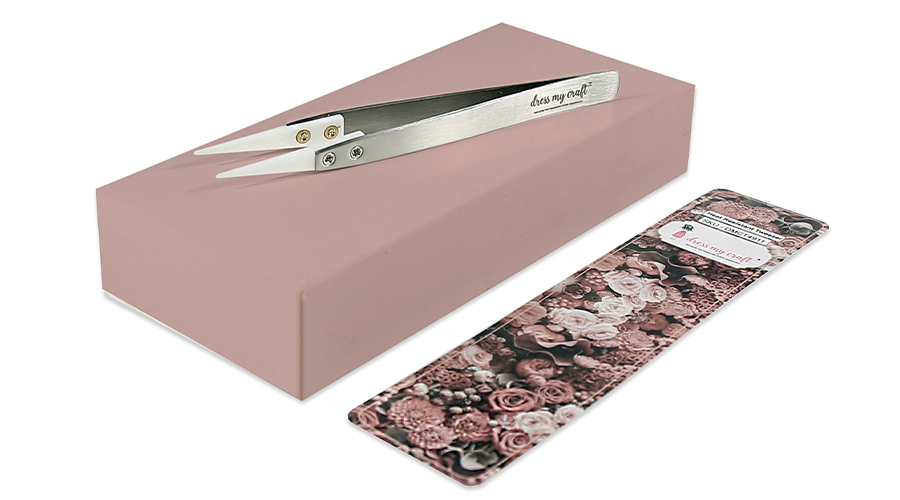 These affordable little tweezers are going to be your new best friend for heat embossing and other detail work. The super sharp ceramic tips are separated from the metal handle, making it easier to heat your project and not your fingers! The fine-tip edge is also perfect for working with paper scraps, jewels, sequins, and more!
The Black MISTI Line by Hero Arts and My Sweet Petunia
Two of your favorite brands teamed up to bring you an upgraded look on one of your most loved tools. Hero Arts and My Sweet Petunia unveiled a sleek new black makeover for the MISTI line at Creativation in an awesome collaborative effort.
Everything you know and love about the full-size MISTI, Mini MISTI, and Memory MISTI - all in fashionable black. Even the accessories you can't live without will get a fashionable black color change for this line. If it's time for a MISTI upgrade, this collection has your name all over it!
Simple Stories has come out with an exciting new extension to their [email protected] Albums line that you're going to FLIP over. The [email protected] Flipbooks are fun mini albums available in 9 different colors and two sizes (6" x 8" and 4" x 6") for creating quick and easy projects that amaze! Each Flipbook comes with 10 clear pocket page protectors surrounded by sturdy cardstock covers that you can decorate and embellish however you choose.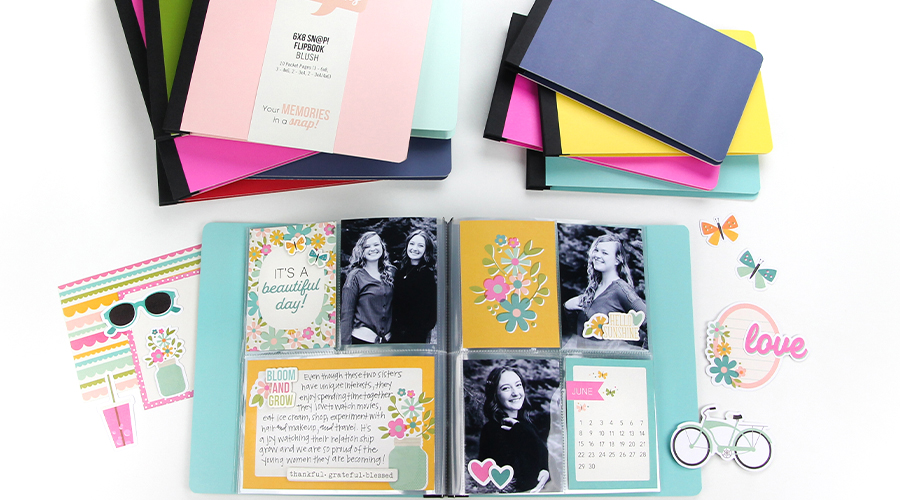 These super cute and flat profile books are perfect for bringing along on a vacation, road trip, on an airplane, or giving one to each of your kids or grandkids for some crafty fun! You can insert additional clear sleeves (sold separately) since these coordinate beautifully with the whole [email protected] line!
Tulla and Norbert Collection by Becky Moore for Photo Play Paper
Gnomes are for more than just gardens - they're perfect for scrapbooks, handmade cards, planner pages, journal entries, and more! Many of your favorite companies have been coming out with gnome-themed stamps and paper collections since these trendy little characters have become very popular. Introducing Tulla and Norbert by Photo Play!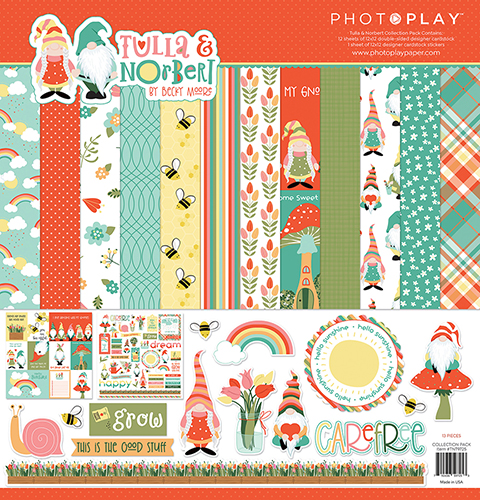 The Tulla and Norbert Collection is bright, fun, silly, and oh-so-cute for all your crafty projects. Show all your favorite gnomies just how much they mean to you when you create something original for them with this fabulous collection by Becky Moore.
Cardstock Sticker Books by Echo Park and Carta Bella
If you're a sticker fanatic (no shame, we are too), then you know the appeal of a shiny new sticker tablet filled with sticky possibilities. New for Echo Park this year are Cardstock Sticker Books, that are releasing with most of their brand new collections.
Not only are they fun on their own, but if you're buying the 12 x 12 papers, ephemera, stamps, washi, or other elements of the collection, these stickers coordinate better than anything else. Each sticker book comes with 16 full pages of stickers at an extremely affordable price - you're going to love them!
Neon Dylusions Paint by Dyan Reaveley for Ranger
There's nothing better than sipping a sweet fruity cocktail by the pool on a warm day...except maybe painting with delicious drink-themed Dylusions Paints from Dyan Reaveley. This year, Dyan did more than just transform the packaging of her paints from jars to bottles. She also introduced several fabulous new neon colors and named them all after fun tropical beverages.
Our favorite is Tropical Sangria pink, but there's also Strawberry Daiquiri red, Sour Appletini green, Mango Punch orange, and more! They won't taste as sweet as an icy beverage, but they're sure to make your art journal or project look sweet!
Super Cool Collection by Pinkfresh Studio
Have you been waiting for a super cool collection for creating the coolest crafts around? Pinkfresh Studio has heard you! Their new Super Cool Collection is all about awesome people, having fun, taking snapshots of fabulous gatherings, and living each day for smiles and laughter.
The 12 x 12 papers have images of emojis, high top sneakers, cell phones, headphones, game controllers, and cool phrases for a project that's hip, trendy, and now. Not only would these make fun supplies for scrapping about your music-loving, selfie-taking teens, but they'd be great for planner pages and notebooks as well!
Electro-Pop by Rina K. for Therm O Web
Rina K, daughter of the fabulous Gina K, has emerged with pizzazz on the crafting scene. Get ready for a pop of color with the Electro-Pop Neon Collection by Rina K. Designs for Therm O Web. Coordinating with Gina K's original neon inks, Rina is bringing out shiny Neon Enamel Transfer Sheets, fuzzy Neon Flock Transfer Sheets, and sparkly Neon Glitz Glitter Gels.
Do you love this fabulous photo as much as we do? It was taken by the talented
Mona Toth
for Thermoweb!
Use Deco Foil Transfer Gel and a hot laminator, or the new Transfer Gel Duo and the pressure of a die cutting machine to get hot neon designs on all your projects!
Happy Birthday Collaborative Stamp Set by The Stamping Village
Last year at Creativation, an unprecedented collaboration occurred when several of your favorite crafty brands came together to form a group that put community, creativity, and the joy of stamping over the competition. They called it The Stamping Village. This year, they continued that tradition again and released a beautiful stamp set as a sign of their unity and creativity.
The Happy Birthday Stamp Set combines 12 of your favorite brands into one amazing product for making birthday cards, gift tags, party favors, scrapbook layouts, and so much more! There are designs by Altenew, Lawn Fawn, Avery Elle, LDRS Creative, Concord & 9th, Picket Fence Studios, Dare 2B Artzy, Pink & Main, Gina K. Designs, Pinkfresh Studio, Hero Arts, and Studio Katia.
Plus, $5 from the purchase of each set goes to benefit the Dreaming Zebra Foundation, which is a nonprofit organization supporting children in the pursuit of their artistic dreams!
Bonus Items - Craft Storage Systems
There was a common theme at several of your favorite brands' booths this year - storage! A common storage issue for craft foil rolls was solved by two of your favorite brands! We R Memory Keepers, and Heidi Swapp both released beautiful, functional craft foil storage systems that you mount on the wall.
Speaking of hot new storage solutions for crafters, Scrapbook.com released something pretty, great, and pretty great while we were attending Creativation 2020. The Ink Pad Storage system from Scrapbook.com is a beautiful, sturdy plastic tower for holding 12 of your favorite stand-sized ink pads.
This sleek, stylish tower will look gorgeous on your craft table, desktop, or shelf and be instrumental in organizing your favorite inks. Not only will it hold the Scrapbook.com Hybrid Inks, but it will also hold standard-sized ink pads from your favorite brands, including Hero Arts, Pinkfresh Studio, Tsukineko, Kaisercraft, Momenta, Catherine Pooler Designs, Ranger Distress, Wendy Vecchi, and more!
---
We hope that you've found at least one new item, tool, or collection that will make 2020 the best year ever. Which one is your favorite?
Don't forget to keep your eyes on our Coming Soon section so you can get excited for amazing new craft supplies all year round! And, if you click 'Notify Me,' you can be the first to know when we have it in stock for purchase!
---