We've been keeping our eye on all of the stunning new releases from beloved brands like American Crafts, Lawn Fawn, Simple Stories, and more - and the new designs are irresistible. Since Creativation in the start of 2017, we've seen some trends, like flamingos and geodes, bask in the limelight through spring and well into summer. However, now, after a successful 2017 AFCI Mixed Media Event, the largest paper crafting show of the summer, we've spotted some up and coming trends that you do not want to miss out on - but first, a little bit about the show.

The AFCI Mixed Media Summer Show was held in Salt Lake City, Utah. We had the pleasure of heading up north to see many of our paper crafting friends, brands, and all of the new industry releases! Plus, as it's been a scorching summer in Mesa, Arizona (where we are located), it was also a much appreciated break from the South Western desert heat!
Not only did we have a wonderful time seeing old friends and new, we also were able to film around 200 videos of all of the new goodies in the paper crafting world, so you could see everything too! To see all of those videos, hop on over to our YouTube Channel and click subscribe. We always give you insider videos into all of the top paper crafting shows!
Rose Gold Foil Accents
Everything's coming up roses - rose gold that is. Following the worldwide trend of copper, seen in fashion and home decor alike, rose gold accents were found in many new collections from paper crafting's hottest brands, where glitter, gold, and silver accents have recently reigned supreme. From planners to fall lines, and "everyday" collections to embellishments, rose gold is continuing its steady climb to the metallic top - and we're totally on board.
Can't get enough of rose gold? Then you better check out these:
Simple Stories Beautiful Collection
Frank Garcia's Amber Moon
Butterflies
If you thought the butterfly trend was aflutter during January's Creativation, you're not wrong. Butterflies were big then, but now, they're bigger than ever. Spotted in almost every booth entered on the show room floor, butterflies were queen. From patterned paper to stamps, and dies to embellishments, butterflies have made their migration into the creative world of paper crafting. Many say that the butterfly symbolizes endurance, hope, and life - and that energy was certainly felt at the event.
Can't stop, won't stop when it comes to butterflies? Then you won't want to miss them here...
Bo Bunny's Dreams of Autumn
Simple Stories Bliss Collection
Pebbles Midnight Haunting
David Tutera for Sizzix
Jen Hadfield's Heart of Home
Traveler Notebooks
Traveler notebooks aren't new to the scene, but they're starting to sprout up in more places than one. Walking into a variety of trade show booths, we definitely got used to hearing "...and these are our new traveler notebooks!" With so many companies joining in on the planner-craze, it's an absolute joy to see the wide variety of traveler notebooks in the market. Whether you like something feminine or masculine, simple or intricately patterned, there are so many choices available for every creative taste. We don't think this trend is going to stop anytime soon.
Notebook obsessed? Wait until you see these...
Kaiserstyle Traveler Notebooks
American Craft Memory Planners (A La Carte)
Constellations and Galaxies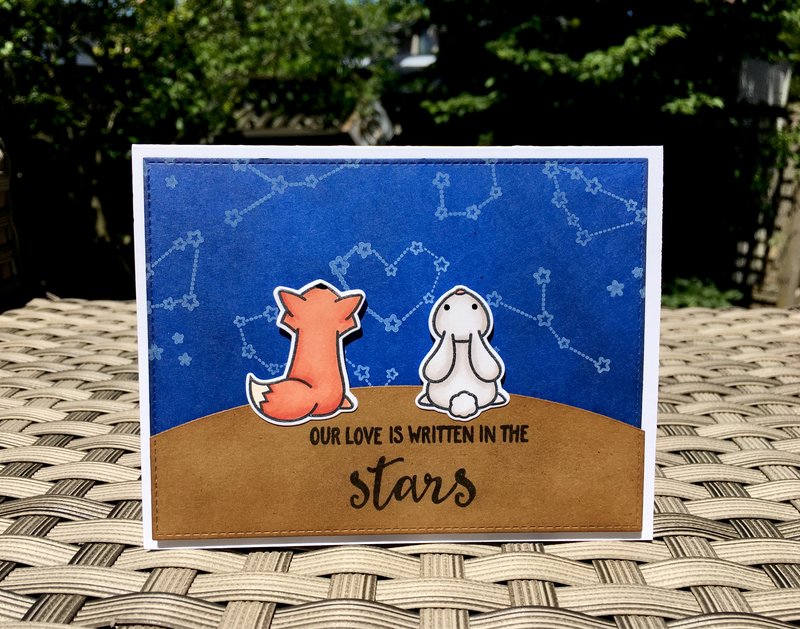 This fresh trend is leaving us starstruck, from its rich purples and royal-blues to the deep, endless skies! In vibrant, creamy kaleidoscopic color, we're seeing galaxies pop up in a variety of collections from some of the most popular paper crafting brands.
Out of this world in love with constellations and galaxies? You'll love...
DCWV Zodiac Paper Pack
Creekside by 1canoe2
Lawn Fawn's Upon a Star
Umbrella Crafts Nested Stars
Reminisce's What's Your Sign?
Pandas
Let's face it - animals are always a go-to favorite among card makers and scrapbookers alike, but the specific furry-friend trend we're seeing arise this year? Pandas. Cute, cuddly, and black and white, the panda motif has materialized before our eyes - from patterned papers and stamps, to entire collections parading pandas.
Batty for Pandas? Look no further -
Photo Play Paper's Cake Collection: Panda Party!
Bella Blvd's Popsicles and Pandas
Panda-monium by Reminisce
Mixed Media and Watercolor
Mixed Media isn't a new mode de vie by any stretch of the matter, but its popularity is climbing among prevalent and up-and-coming crafting brands alike. Now, it's considered a norm to have a variety of mixed media elements on your layouts, in your mini-albums, and dressing your card-fronts. From gessos and acrylics, to watercolors and glitter, mixed media is ascending the ranks into a well-deserved seat in the paper crafting industry!
If you love mixed media and watercolor elements, you might want to look at these...
Lawn Fawn's Watercolor Wishes
Prima Marketing's Paint & Mixed Media Supplies
Tonic's Nuvo Collection
Succulents and Cacti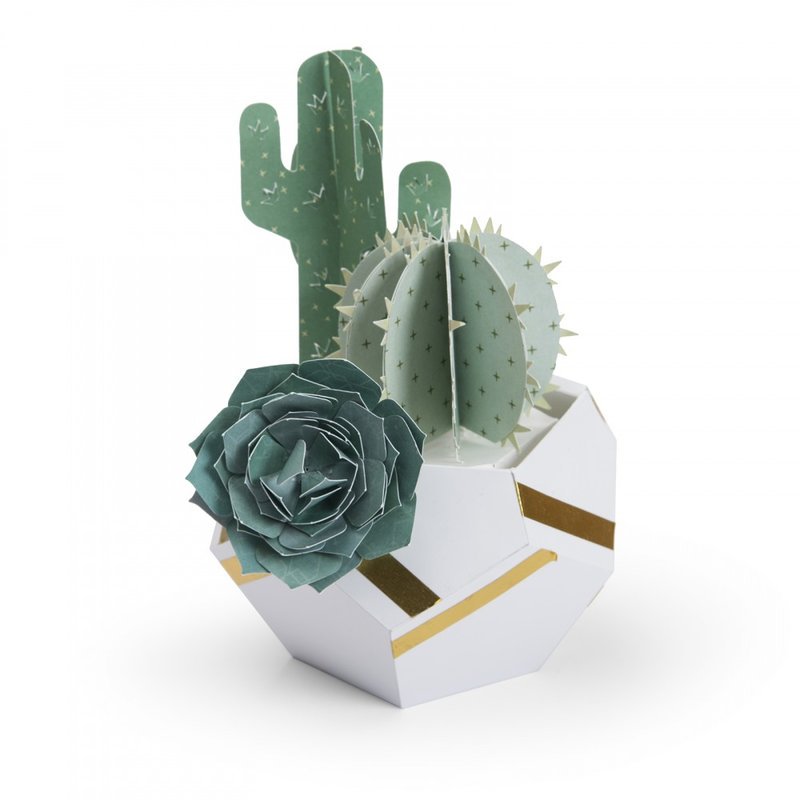 There's no surprise here - succulents and cacti are hot in interior design, fashion, and mainstream design, so it's no shock that we're seeing them sprout up in the paper crafting world, time and time again! While perusing the show floor, seeing succulents and cacti became an expected, but beloved standard. Be it stampers or die cutters, traditional scrapbookers, or card makers, there's a plant-in-vogue for whatever your creative desire may be.
Have a first class ticket on the succulent wagon? Check these out...
Bo Bunny's Garden Party
Sizzix's In Bloom Collection
Honey Bee's Stick With Me Stamps
Unicorns
It started with narwhals (which are totally real) and now it has come to unicorns (which are also totally real - hey, we can dream, right?!). Colorful, whimsical, and nothing short of magical, unicorns aren't just for kids anymore. From popular stamping companies to paper collection based ones, line after line is being unveiled featuring the mythical fauna we all love. Whether you fall into the cutesy-crowd or sway sophisticated, there's a unicorn design that will give your projects an enchanting wow-factor.
If you too believe in unicorns, you'll adore these:
Concord & 9th's Unicorn Awesomeness
Shimelle's Glitter Girl
Pinkfresh Studio's Unicorn Dream
Fairy Tales from Doodlebug Design
Interactive Elements
Most of us are aware of fun, interactive options found in card making, but the options are ever-expanding, pushing the limits, and present among the most popular crafting brands! From shakers and wobblers, to spinners and sliders, interactive elements are hotter than ever and everyone is jumping on board.
If you want to add easy, jaw-dropping interactive elements, here are some go-to's...
Art Impressions Wobblers
Lawn Fawn's Magic Slider Die
Jillibean Soup Shakers
Purple
The hottest up and coming color? Purple! While on the show floor, something purple caught our eye... and then something else purple, and another something purple, and so on and so forth until we were seeing splashes of purple all around! Rich, bright, and evoking feelings of royalty, we're excited to see purple rising to reign!
Smitten for purple? Look at these...
Kaisercraft's Christmas Jewel
Heidi Swapp's Lightbox Glow
Blue Christmas by Ella & Viv
Prima's Rose Quartz Collection
---