Christmas is such a magical time of year to be thinking about practically year-round. At any given moment, we can hear the faint jingling of Christmas carols and the snowy thump of Santa's boots upon the rooftop. Now's the perfect time to start thinking about how you're going to document a December to remember during the holiday season.
For thousands of crafters around the world, the most creative and memorable way to do this is by making a December Days Album, which documents photos, activities, memories, traditions, outings, and all magically merry moments in the month of December!
In this article, we'll cover:
What is a December Days / Daily December album?
Ideas and techniques to inspire your own documentation
Popular supplies for getting starting on your memory keeping project
What is a December Days Album?
The popular crafting project, commonly known as the December Daily, was started by the creative and talented Ali Edwards in 2007. It's also known as a December days project, Daily December Album, or even just a festive holiday album.
Jamie Pate
used a fabulous film strip alongside supplies from Heidi Swapp for this amazing spread.
Whatever you choose to call it, this memory keeping project is meant to document the month of December or the 25 days leading up to Christmas.
The goal of this type of crafting project is simple: capturing the magical spirit of Christmastime and all the festive activities both inside and outside your home. It's a beautiful way to document and celebrate the holidays in a customized album, book, folio, journal, or flip-through.
What Do I Put In My December Days Album?
A common practice with a December Days project is to pick one story a day for each day of the month to document in your album. But that's just a suggestion - you can truly include absolutely anything you want to.
AnyaL
created a fun pocket page album with Christmas collections from Echo Park.
Here are just a few ideas for filling your daily album:
Family traditions
Savory or sweet recipes from kitchen adventures
Holiday light displays
Gift-giving & receiving stories
Shopping outings
Tales from decking the halls
The holiday season can be a stressful whirlwind, and this project is meant to be a fun, family-forward, memorable project that you can look back on in the coming years to remember each special moment.
Even days when you stay at home in your matching buffalo check pajamas, binge-watching made-for-TV-movies can be documented in your album.
How Do I Start My Daily December Project?
Here are the three steps to getting started (hint: it's easier than you could have ever imagined!):
Gather your supplies (Base, photos, embellishments)
Set up your album (get each day ready for memories)
Document the days of December (add pictures, journaling, and accents)
So, what supplies do you really need to have in order to start a December album? That's the true beauty of this project - whatever supplies you choose!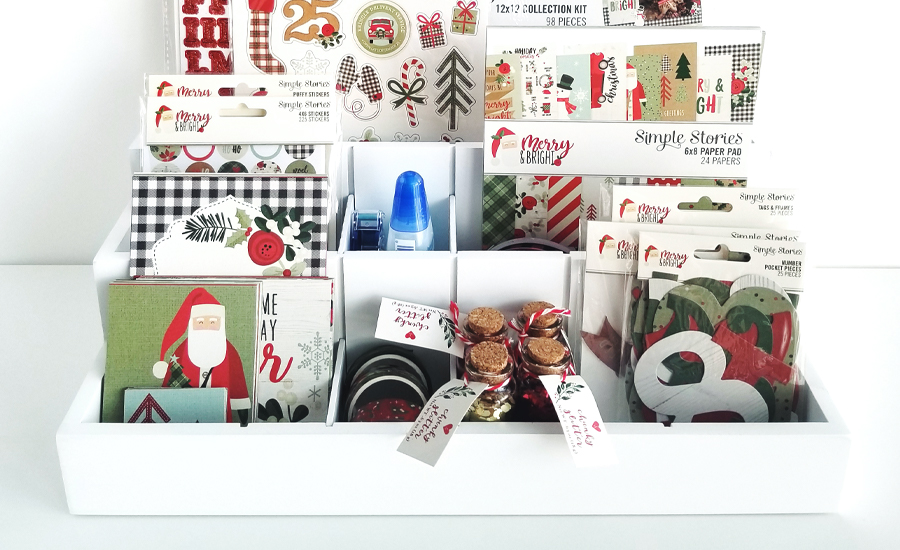 Make sure all of your December album supplies are
organized
and ready to go at a moment's notice!
What Should I Put My Daily December Memories In?
An Album
In a Daily December Album, many creators start with an album itself. Scrapbook.com has albums in all colors, shapes, sizes, and styles. You can choose the size of your project, from a big, beautiful 12" x 12" album, to a nice little 6" x 9" album, or even something in the middle.
Albums allow you to choose different types of page protectors for building full-size layouts, arranging multiple sizes of photographs, or just placing fun patterned paper cards in clear-see through pockets.
Anett Gelencser
crafted this unique tag album with numbered days and Crate Paper supplies.
A Journal or Notebook
For something on a smaller scale, choose a little handy spiral notebook, journal, or traveler's notebook to document your December. These intimate & handheld memory keeping tools allow you to add a key photo, embellishments, and journaling all on the bound pages.
A traveler's notebook is a nice, small project for someone doing a daily album for the first time. The pages are slender and great for the important details for each of your holiday days. They are even the perfect size for mini photos from a handheld instant camera or printed photos cut down to size.
A Memorydex
A Daily December doesn't even have to be an album, notebook, binder, or journal. It can be something entirely all your own - like a Rolodex spinner filled with 25 days of memories. This is another great introductory way into December memorykeeping.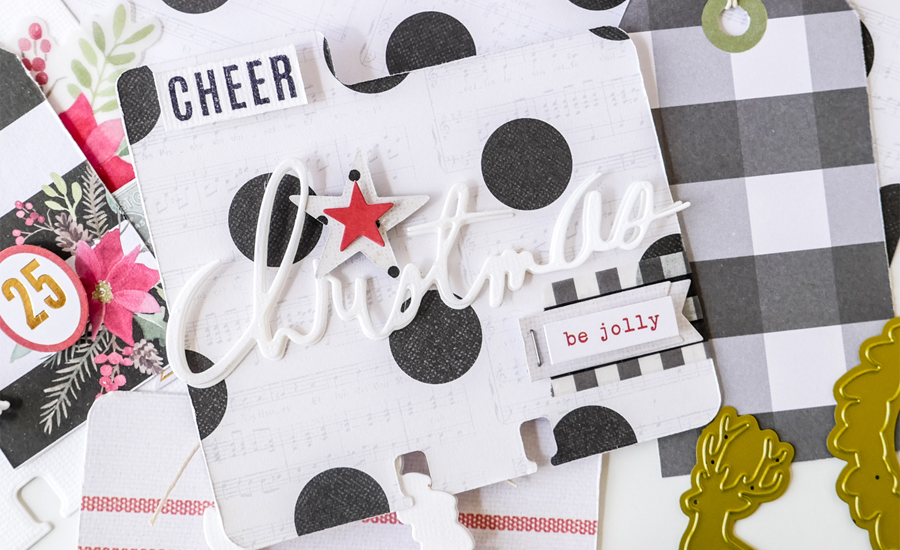 Here's another amazing creation from the talented
Jamie Pate
using the Heidi Swapp Memorydex.
Grab a Heidi Swapp Memorydex and a few accessories for punching pages and photos, and you'll be so flippin' excited to flip through a new memory each day. From sledding and cookie baking to present wrapping and Christmas light testing, each day's memory will bring a smile to your face.
What Other Supplies Do I Need For My Daily December Project?
While we could completely exhaust you with an all-inclusive list of amazing papercrafting supplies, this list is ultimately up to you!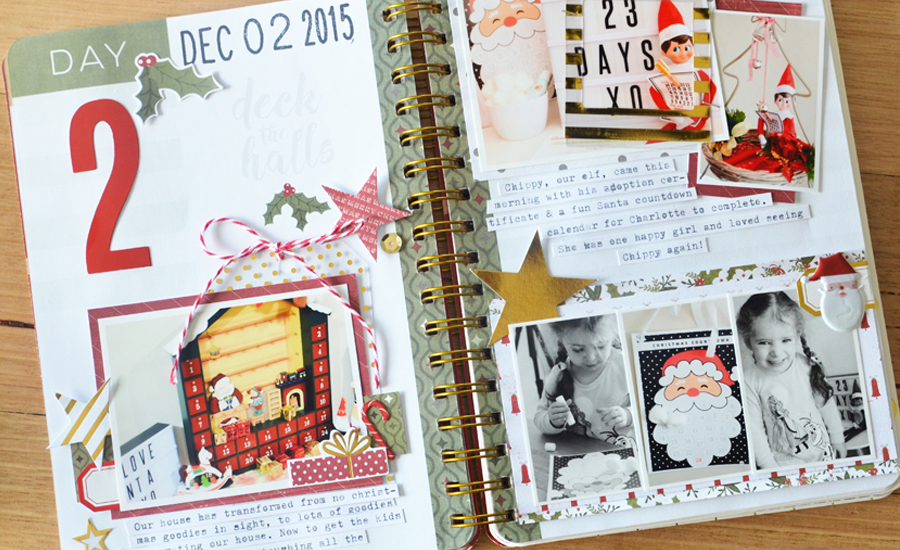 Raquel Bowman
shows us how much the right ephemera & embellishments can truly make a December album.
Here are a few suggestions:
Paper
You can choose a theme for the entire length of your December documentation or give every page a unique look. So whether you stick to one wintery or Christmas collection from Simple Stories, Doodlebug, or P13, or mix them all together in your album, it's going to be fabulous! Use paper to mat your photos or layouts and provide a background for journal pages.
Embellishments
Coordinate your paper choices with one or more perfect packs of ephemera, paper flowers, jewels, or more to accent your memories. Christmas-themed embellishments will make your heart happy, and your memories positively jump off the page.
Stickers
When it comes to Christmas stickers, there are tablets, 12 x 12 sticker sheets, puffy stickers, chipboard stickers, and everything in between for your Daily December album. Scrapbook.com even has two Christmasy color schemes in our exclusive Sticker Book Collection filled with letters, phrases, frames, and foil accents.
Stamps / Ink
If your pages are a little bare in your journal or notebook, it's time to add some fun stamped images! Browse the Christmas stamps & inks for every holiday icon, winter florals, and all the festive hues of ink you need.
Tools
Depending on how you set up your album, you might need a couple of basics in your stashes, such as a sharp pair of scissors and a reliable adhesive. Find must-have tools for crafting right here.
Here's a tasty December album creation from
Layle Koncar
using pocket page protectors.
Make every day of December as merry & bright as possible with your customized Daily December album project. What memories will you be adding to your project? Make sure you comment below and add your projects to our gallery to inspire others!
To learn more about Daily December albums, be sure to check out our Documenting December podcast right here!
---