The question shouted across the mountain tops from card makers and mixed media aficionados everywhere is one of grave importance: what is the difference between Distress Inks and Distress Oxides... and do we need both?
The two bestselling stamping inks look similar on the outside - both of their standard sizes are 3" x 3" rounded cornered squares. Both have dense, felt pads, and both have a similarly designed packaging (heck, both even are called "Distress"!). However, the two types of stamping inks serve very different purposes and help achieve very different creative goals and end results.
The first distinct difference is one of formula. Distress Inks fall into the family of dye inks. Dye inks are transparent in nature and, due to their "thin" quality, dry quickly. Distress Oxides, on the other hand, are primarily constructed of pigment ink, a type of ink that is opaque and, due to its natural thickness, dries more slowly. It is important to note, however, that Distress Oxides are technically a hybrid - containing mostly pigment ink, but also some dye ink too. This is the first key difference between the two inks. Learn more about the differences between dye, pigment, and other inks in our guide here.
Both types of inks can be essential to a card maker's repertoire, depending on his or her goals. For quick projects, a dye ink might be what you need. For projects that can stand to have a little more dry time, you may prefer pigment ink. It's entirely up to you!
On a clean, white piece of watercolor paper or cardstock, Distress Inks and Distress Oxides do not appear all that different, but once you get elbow deep into the nitty-gritty of your creative exploits, you will soon begin to discover otherwise.
Distress Oxides begin to oxidize immediately, giving them a chalky finished look, even though they contain absolutely no chalk. Because of this milky oxidizing effect and the fact that they are pigment inks, which makes them more opaque, they tend to "cover up" their background (i.e. the white cardstock). This makes the Distress Inks appear brighter and more vibrant in color when used on a white piece of cardstock. This is something to consider when you choose which ink you might want to uncap for your next project.
The difference between Distress Inks and Distress Oxides is much more obvious on a darker background. Be it Kraft, black cardstock, or otherwise, you'll notice that the same thing happens: the Distress Oxide (pigment-based) "covers up" the background and the Distress Ink (dye-based) allows the background color to seep through. In cases of dark backgrounds, you may find that you prefer the brightness that the Distress Oxide delivers.
You may notice that Distress Inks come in this cute mini variety - 1" x 1". Distress Oxides do not currently come in this tiny size.
How do You Use Water With Distress Inks and Oxides?
Here, we see two examples of Distress Inks and Oxides, on a dark background, then on a light. On the left, we have Distress Ink on the top half of our kraft paper and Distress Oxide on the bottom. The same on the right - Distress Ink on top, Distress Oxide on the bottom.
Both Distress Inks and Distress Oxides work harmoniously with water, creating visually stunning results. Using a sprayer is a quick and easy way to make impressive backgrounds and delicious designs.
Fill up your craft water bottle and spray to your heart's content. You'll notice a difference in the effects you get right away.
Tip: Test papers. If adding water "doesn't work", it may be an issue of paper type! Some papers are more porous than others, making the aftermath of your water adventures not be quite what you had envisioned. You have two options here: GO WITH IT! Or, try different papers! Notice in the image above: the white paper allowed the Distress Inks and Oxides to travel, whereas the kraft paper held a "you shall not pass" mentality.
Is there a difference between Distress Inks and Distress Oxides when used with water? Yes!
Both Distress Inks and Distress Oxides wick with water (they spread and travel across the surface of the paper, creating galactic effects). They also both can air dry or be dried via use of a heat tool.
Distress Inks maintain their transparent constitution, allowing you to "see through them" all the way to the tooth (the texture) of the watercolor paper behind.
Distress Oxides also do not cease to keep their disposition. Covering the paper more opaquely, you see layers of ink, versus directly through to the back of the paper.
Can You Watercolor with Distress Inks and Distress Oxides?
Yes! Because both Distress Inks and Oxides respond well to water, watercoloring with a brush is a wonderful way to use both of these inks, and you'll get varying results with both.
For watercoloring with both Distress options, using Distress Ink and Oxide Reinker bottles is the easiest option. Use a palette to store your Distress Ink and Distress Oxide drops - one drop per place setting should suffice. Because the medium is ink, you do not have to worry about it drying up in its liquid form. If you don't use all of a color, that's totally okay. You'll have the ink ready to use for the next time you get creative!
On the left half of the pictured palette above, each place setting holds one drop of Distress Oxide Reinker. On the right hand side, each place setting holds one drop of Distress Ink. Notice that it's easier to see the hue of the Oxides, so it may serve you well to label your color spots if you're using Distress Inks.
Tip: Because Distress Oxides are thicker than Distress Inks, make sure you shake your Oxide Reinker (with the cap secured) before dropping it onto your palette to make sure the pigment ink fusion is cohesively blended.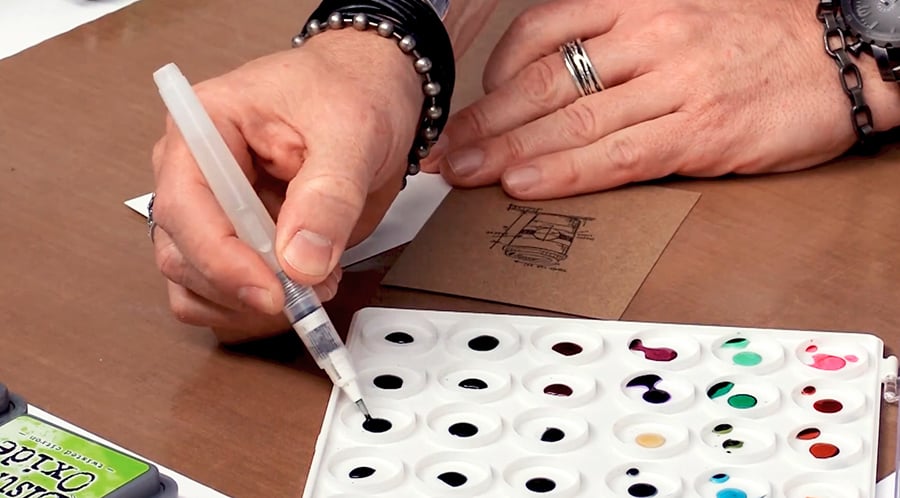 Grab your favorite water brush (or a watercolor brush and cup of water). Both Distress Inks and Oxides are utilized as watercoloring mediums in the same exact way, but will have different effects.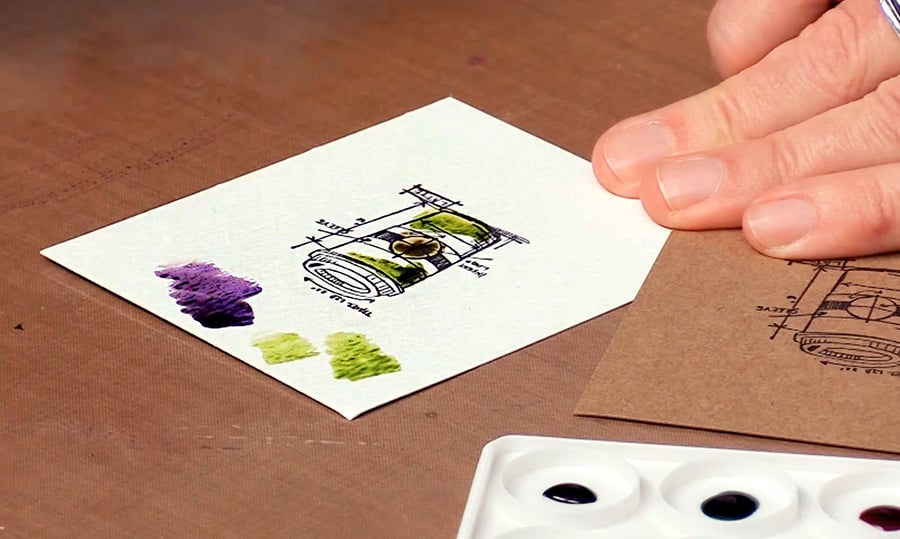 Watercoloring with Distress Inks will give you a more traditional watercolor effect - a transparent, watery look that becomes lighter hued with more water and more saturated with more "paint" - or in this case, Distress Ink Reinker, such as in the image above.
You'll find, just like in the initial ink comparison, that using the Distress Ink Reinker creates vibrant color when used on a stark white piece of watercolor paper or heavy lb cardstock, but creates a much less saturated result when using dark or kraft paper - just as standard watercolor paint would do.
However, on the contrary, Distress Oxide Reinkers will create a much more opaque effect on your dark backgrounds (and your white ones too, though the color might not be quite as bright as Distress Ink on a white background). Utilizing Distress Oxides in this way will create a finished product that looks a lot more like a heavier bodied paint and the ink will begin to oxidize immediately, creating the wow-effect that these Distress Oxides so steadfastly provide.
Both Distress Inks and Distress Oxides can be mixed and matched when watercoloring too, which gives you, the artist, more flexibility, creative power, and options!
With the milky shamrock green of the Oxide variety and the black coffee transparency of the Ink, the differences in how the colors appear gives you the option to create unique blends of the two until the cows come home!
Tip: Both Distress Inks and Distress Oxides pads can be reinked via the Distress Ink and Oxide Reinkers. Once each pad starts to dry out, simply drop your reinker onto your dehydrated felt pad and watch it come back to life.
How do you Watercolor with distress inks and oxides?
Drop your favorite Reinker colors in a clean paint palette
Prep your waterbrush by filling it with water and gently squeezing to ensure its functioning
Dip your brush into your ink
Test your colors on a scrap piece of paper to test them before adding them to your project
Paint as you normally would and add paint/squeeze water as needed
Which Ink Blends Better?
The tale as old as time, the search of generations, one might even argue the discovery is the joie de la vivre: how do you get the perfect blend with stamping ink? First of all, having the right tool is the smallest, easiest, yet most fundamental step in creating impressive, cotton-candy blended backgrounds. Either a Blending Tool with interchangeable applicators or a reusable Dauber Set will get the job done and you'll be glad you invested in one.
Once you have the perfect blending tool, you need the perfect ink. Lucky for crafters everywhere, both Distress Inks and Distress Oxides blend well, but one may champion the other.
Distress Inks, due to their transparency (you may be noticing a theme), have a tendency to show streaks more than their counterpart. This does not mean that you cannot blend with them or that it is even difficult to blend with them. This does mean, however, that you may need to practice a bit more lightness of hand with them, being careful not to press down too hard in one spot, as once a streak makes the scene, you'll notice they take a little patience and TLC to smear back out.
One of the most fascinating and beloved characteristics of Distress Oxides is its ability to easily blend, nearly flawlessly. Drop your blending tool and make a smear? It's fine. Breathe easily and rest assured that a little pushing and pulling of the oxide will blur your accidental streak into oblivion.
On the left, you can see the edge blended using Distress Ink, versus the right side, blended with Distress Oxide. The Distress Ink creates an edge that looks more antique and "gritty." The Distress Oxide looks creamier. The effect you want is up to you. If you prefer one over the other, there is no right or wrong answer. You may even prefer both at different times!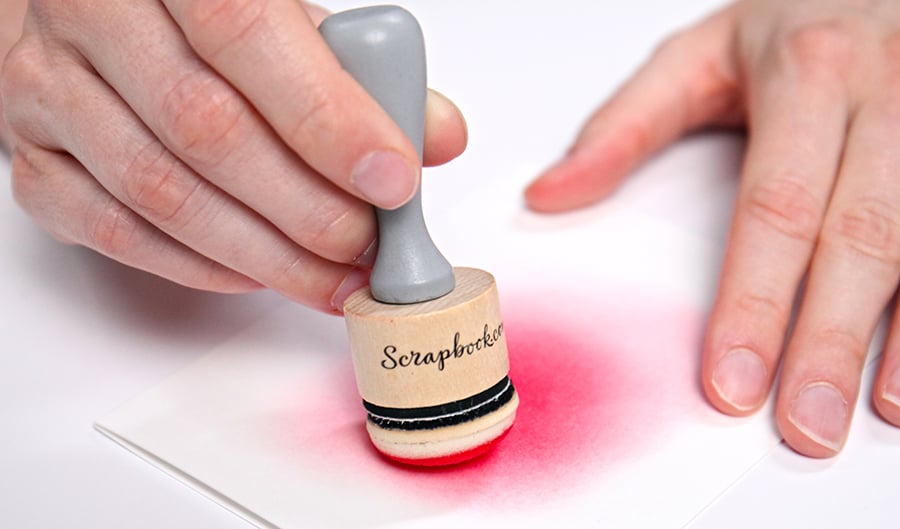 Whether you choose Distress Inks or Distress Oxides, you're going to need a phenomenal blending tool to get the fabulous inky look you're going for. That's why Scrapbook.com designed the exclusive Domed Foam Ink Blending Tool and Replacement Applicators. This tool with removable foam applicators is designed to create the best no-line blends you've ever seen.
It excels at swirling and moving ink into amazing blends and beautiful hues because it was designed by crafters, for crafters!
Already have a Ranger Ink Blending tool? No problem! You can buy the Domed Replacement Foams separately that fit right on that tool. Trust us - you're going to the looks you get from our exclusive domed design!
Can You Emboss with Distress Inks and Distress Oxides?
Both Distress Inks and Distress Oxides can be used for embossing. Because the ink pad color will be the color of your end embossed result, Tim Holtz (the creative mind behind Ranger Ink's Distress products) recommends using a clear embossing powder so you can see the beautiful, rainbow hues.
How do you emboss with Distress Ink or Oxide?
Emboss as you normally would - coat your stamp with a generous amount of Distress Ink or Oxide
Stamp your image onto your paper
Set your stamped paper atop a piece of scratch paper
Cover your stamped image with a layer of embossing powder. Make sure your entire image is covered in powder
Pick up your newly coated stamped image and gently tap excess powder off
Put extra loose embossing powder back into its container and screw on the top cap
Holding your paper up by the corner, heat cure it with an embossing heat tool or craft heat tool. Get very close to your image and avoid your fingers. It's very hot.
You'll notice your impression start to change color and texture. When it does, move the heat to a different part of your image.
Distressing About Storage?
If you've amassed an impressive collection of Tim Holtz's Distress products, then you most definitely need a storage solution to get you organized.
The Scrapbook.com ColorCase Collection offers two different sizes of clear bottle storage containers for your Tim Holtz Distress Paints, Distress Archival Reinkers, Distress Oxide Reinkers, and Distress Collage Medium Bottles.
Pick up one, two, or a whole set so that you never have to go rummaging through the drawers, bins, and bags all around your craft area. The ColorCases stack beautifully and look fantastic while keeping your space tidy and organized.
The Differences Between Distress Inks and Distress Oxides Recap
Distress Inks are Dye Inks
Distress Oxides are Pigment-Dye fusions
Distress Inks are more transparent
Distress Oxides are more opaque
Both Distress Inks and Oxides are available in the standard 3" x 3" size
Only Distress Inks are available in 1" x 1" minis
Distress Inks are brighter in color than Distress Oxides when used on white cardstock
Distress Oxides are brighter in color than Distress Inks when used on kraft or dark cardstock
Distress Inks dry faster than Distress Oxides
Both Distress Inks and Distress Oxides can be used for watercoloring
Distress Inks and Distress Oxides pads can both be reinked
Distress Inks blend a little bit streakier than Distress Oxides
Distress Oxides have a creamier result from blending
Both Distress Inks and Distress Oxides can be used for embossing
Now that you know the differences between Distress Inks and Distress Oxides, you're ready to go out into the imaginative and crafty world with your new, priceless knowledge to create, make, and most of all - have fun!
If you're interested in learning all about the NEWEST colors in the Tim Holtz Distress line, you won't want to miss this article right here.
---
A big and warm thank you to Tim Holtz for providing us with his knowledge and expertise through his free class (sign up now) for Scrapbook.com customers, shared in this article!
---