You've gotten your die cutting machine. Now what? You stock up on some of the coolest must-have accessories that will make your crafting game strong!
When it comes to the great big fabulous world of die cutting, there's so much more to it than just metal dies that will cut shapes. There are tools that provide you with the ability to achieve different looks and techniques with your machine, others that make your space or experience just a little bit prettier, and some must-have products that make die cutting so much easier.
Join one of your favorite innovative crafters, Carissa Wiley, as she walks you through some can't-miss tools, supplies, and accessories for creating die cutting brilliance.
Machines and Bundles
It should hopefully go without saying that the first thing you need when you're planning on die cutting or embossing is a die cutting machine. There are so many popular brands to choose from when you're searching for a machine that is going to get the job done and look amazing doing it.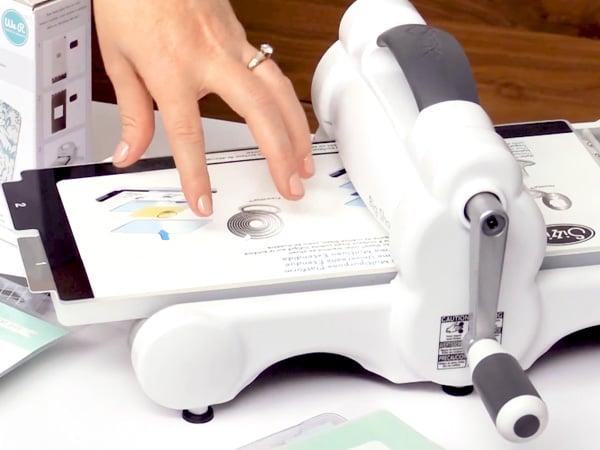 A great place to start your search is with our Die-Cut Comparison Chart, which outlines the features, benefits, and important specifications for popular manual and electric die cutting machines. Once you've found the perfect One for you, Scrapbook.com offers an extensive selection of machines and exclusive bundles to choose from that get you started with tools, dies, materials, and accessories!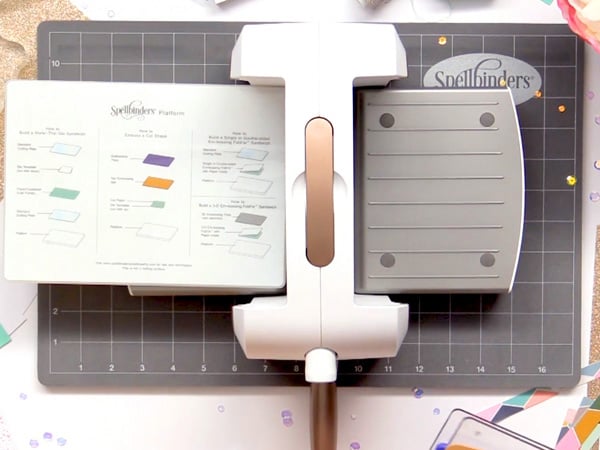 Tip: If you're still on the fence about die cutting machines, or you're just not sure which one is right for you and your craft needs, take a peek at this article to help you with this important decision!
Cutting Pads
No matter what machine you end up going with, you're going to have to build your "sandwich" to ensure the material you're working with has enough pressure to get a clean cut or impression when it goes through the machine. Sandwiches are built differently depending on the type of machine you're working with, as well as the techniques you're employing. Each machine comes with cutting pads, which are two high-quality polycarbonate plastic sheets.
For the Spellbinders Platinum machine, the cutting pads are a perfect clear plastic to easily see through your sandwich and ensure proper alignment at all times.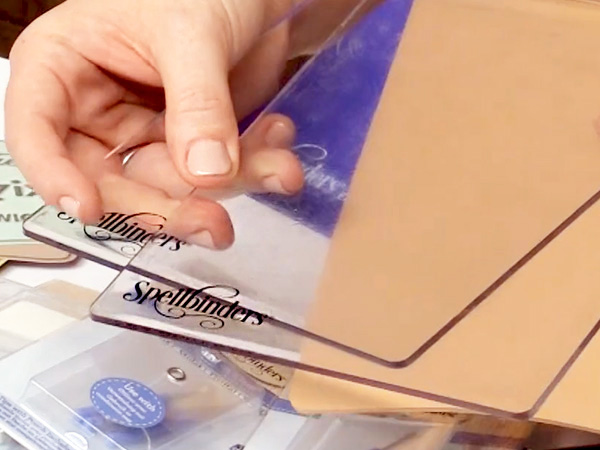 The Sizzix Big Shot machine has the most fun options when it comes to cutting pads. Choose from a variety of fun colors, including the exclusive Scrapbook.com Ocean Sparkle Blue and Ballet Slipper Pink. These options get the job done in exactly the same fashion as ordinary clear plates but look fashionable doing it! They also have a tendency to stand out among the creative mess in your workspace, so you can always find them and pull them out to pass through your machine!
Magic Mat Cutting Pad
Speaking of cutting pads, Scrapbook.com has designed a unique tool for die cutting that is pure magic - The Magic Mat. This innovative cutting pad is made from a high quality self-healing material that is designed to be long-lasting when used with blades and cutting tools. The resiliency of the material makes it the ideal surface for metal dies to cut into again and again and again.
The Magic Mat is designed to be a replacement for one of your standard plastic cutting plates - specifically the One that gets cut into. Do you know what that means? Say goodbye to warped plastic cutting plates and deep etchings, marks, or scratches that may transfer onto your next die cutting project.
Magnetic Platforms
Magnetic platforms are incredibly helpful tools that ensure precision alignment when using your die cutting machine. Your dies won't be slipping, sliding, or moving out of place when you least expect them to. The magnetic base is strong enough that it will hold on tightly to your wafer-thin dies, even with a plastic cutting pad in between the platform and your die!
This magnetic platform has attracted our attention...and our dies!
For you Sizzix machine lovers, the magnetic platforms come in standard and plus sizes.
One of the best features of all these magnetic platforms is the helpful diagram printed right on top of the platform itself that reminds you exactly how to build your sandwich to get perfect results every time!
This accessory is truly a must-have for those who love coordinating stamp and die sets. Stamp your image, and then let the magnetic platform do the hard work of holding the die exactly where it needs to be for the perfect cut!
Stamp and Die Sets
Stamps can be super cute, lovely, meaningful, and pretty. Dies are amazing, versatile, and wonderful. But together, these two can do almost anything! Coordinating stamp and die sets are quickly increasing in popularity. More and more brands are coming out with sets that either come together or can be purchased separately. Some of our absolute favorites come from Hero Arts, Lawn Fawn, and Spellbinders. Even super cute Doodlebug has stamps and dies for some of your favorite collections that are almost too adorable for words.
The ability to stamp and then die cut the beautiful sentiment, shape, or character with intricate precision is quite an awesome feat that adds depth and a professional feel to your projects. It also gives you the ability to write your own rules on how you want something to look on your finished creation.
Tip: There are so many different types of dies that you can use with your die cutting machine for amazing results. Let us take the guesswork out of your die search with our Everyday Guide to Buying Dies!
Embossing Folders
When you're looking for great depth in your projects, embossing folders are a fantastic place to start! These plastic folders are used in conjunction with your die cutting machine to create embossed or debossed looks within your paper. They're a simple, easy, and affordable tool for adding a unique, special touch to your creation.
Why settle for a plain piece of cardstock when you can have a beautiful embossed texture of flowers, snowflakes, hearts, dots, and even sentiments pressed into the paper?
Embossing Pads
You might think that the only way to get amazing embossed effects on your projects is with a premade embossing folder. What if we told you that you could turn your wafer-thin dies, Thinlits, Triplets, and various other cutting dies into embossers?
Take some of the pressure off your dies and let an embossing pad do the work for you!
With embossing pads, typically made out of a silicone or rubber material, some of the pressure of the die is absorbed so that it doesn't actually cut through your paper or cardstock but leaves a lasting, embossed impression instead!
Sizzix offers the Emboss and Transfer Set, which is one silicone rubber pad and one special plastic pad for getting the exact pressure through the machine.
Sizzix Die Brush
When you've got teeny tiny paper bits stuck in your intricate dies, you need something simple to help you out. The Sizzix Die Brush and Foam Pad is a lifesaver and a timesaver for ejecting excess paper by quickly running the brush bristles over the back of the metal die. And no need to worry about paper pieces everywhere with the foam pad catching all the stray flecks of paper! You can even pick up a trendy Tim Holtz bundle that includes a Die Brush & Die Pick right here.
Tweezers
Tweezers might seem like a tool that belongs in the bathroom and not in the craft room, but these little guys are actually incredibly helpful for a variety of situations. From gently removing a lacy-designed doily die cut from the metal die to placing those pieces gently upon your project, you'll be constantly going back to your tool stash for these helpful Scrapbook.com Fine-Tip Craft Tweezers.
Sizzix Die Pick
This is one of those tools that you don't think you need until you actually use it. The Sizzix Die Pick is a mighty, tiny tool that is helpful when dealing with paper stuck in your dies or trying to get that last tiny bit of stuck paper out of a crevice. It's also great for piercing paper or adding holes for awesome stitch effects on your projects!
You'll want to pick up this tool every chance you get!
A wonderful feature for this tool is that the snap-on cap is on point! You won't have to worry about accidentally stabbing yourself when you go to dig this out of your tool drawer or craft bag when the cap is protecting you from a dreaded crafting injury!
Spellbinders Tool 'n One
The Spellbinders Tool 'n One is three interchangeable, essential craft tools all in one handy device. Use the sharp paper piercer/pick tool to make pin-size holes in your projects or poke through the back of your intricate dies to get the cut paper out of crevices.
There's also a tiny scoop tool that helps to lift your paper from the die and ensure it's all in one piece! Is your die cut out of the die, but tiny scraps still remain? Use the brush tool to get the bristles through all the holes in the back of the die and the bits and pieces removed in just a few quick swipes!
But wait, there's more! The Tool n' One also has a brayer roller* and quilling tip* sold separately that seamlessly attach for additional uses. There's even a storage compartment within the tool itself where you can store a couple of the tips while you're using other attachments. This is great for storage and also to make sure you don't misplace them!
Spellbinders Main Attraction Die Pickup
This giant gemstone has definitely attracted our attention! The Main Attraction by Spellbinders is a handy little magnetic tool for holding dies while you're working and also assisting with clean-up. Don't let scattered scraps stand in the way of collecting your dies! A simple wave over your work surface will pick up all those hidden gems, so you don't accidentally toss them in the trash!
Diamonds are a girl's best friend, but this may be our new BFF!
We R Glitter Mini Vac
Clean-up is probably the least fun part of crafting and sometimes the most necessary to ensure you're ready for your next project. With We R's Glitter Mini Vac, all the stray bits of paper and die cut cut-outs have met their match! Just a few quick swipes of this compact, easy to use, rechargeable little vacuum, and the mess is magically gone!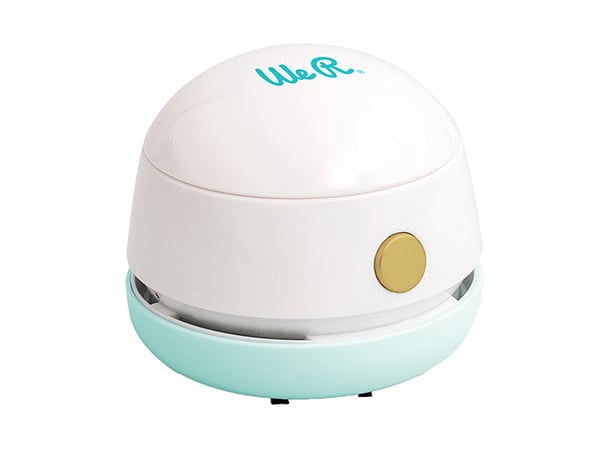 There's nothing cuter than this genius little clean-up assistant!
What's great about the Mini Vac is that you can use it again and again! The reusable device recharges with an included USB cable and can be emptied out into the trash with a few simple steps.
If you're not a die cutter yet, but can't wait to be now, check out some of our bestselling machines and bundles that come loaded with extras, tools, and accessories for created unforgettable die cut and embossed projects!
---
Can't get enough die cutting? Be sure to check out our free class, The Best Beginner Die Cutting Class Ever with Carissa Wiley.
Once you've stocked up on some great accessories to elevate your die cutting experience, check out 7 Die Cutting Projects to Try Today and Hot Die Cutting Trends You Have to Try!
What's your absolute can't-live-without die cutting accessory or tool? Let us know in the comments below!
---