As crafters, we know a thing or two about tools. From crafting hardware that helps us create clean cuts and trims, to machines that emboss and letterpress, even hand-held heating tools, we've got quite the creative-arsenal available to us.
With so many tools on the market and available at the click of a button, which ones are the must-haves to help you take your projects from "somehow" to "know-how"? We've compiled a list of the 16 must-have tools that every crafter needs. What they do, where to find them, and why they made the list!
And don't forget to check out the bonus must-have item at the bottom of the list!
1. Washi Tape Runner
We have some amazing runner-style devices for applying adhesive, and now there's a phenomenal Washi Tape Runner to assist in applying and cutting washi tape! This helpful, handy little tool is a game changer in the wonderful world of washi tape! It is built to easily load and unload various different colors and patterns of washi tape that are 1" to 1.25" in diameter.
Think of all the perfectly-placed washi tape across your scrapbook layouts, planners, traveler's notebooks, handmade cards, and so much more! It also allows for precision cutting with a retractable blade on the very top for slicing off the end exactly where you need it! If you weren't previously obsessed with the rainbow of washi tapes available, you will be now!
2. Tab Punch Board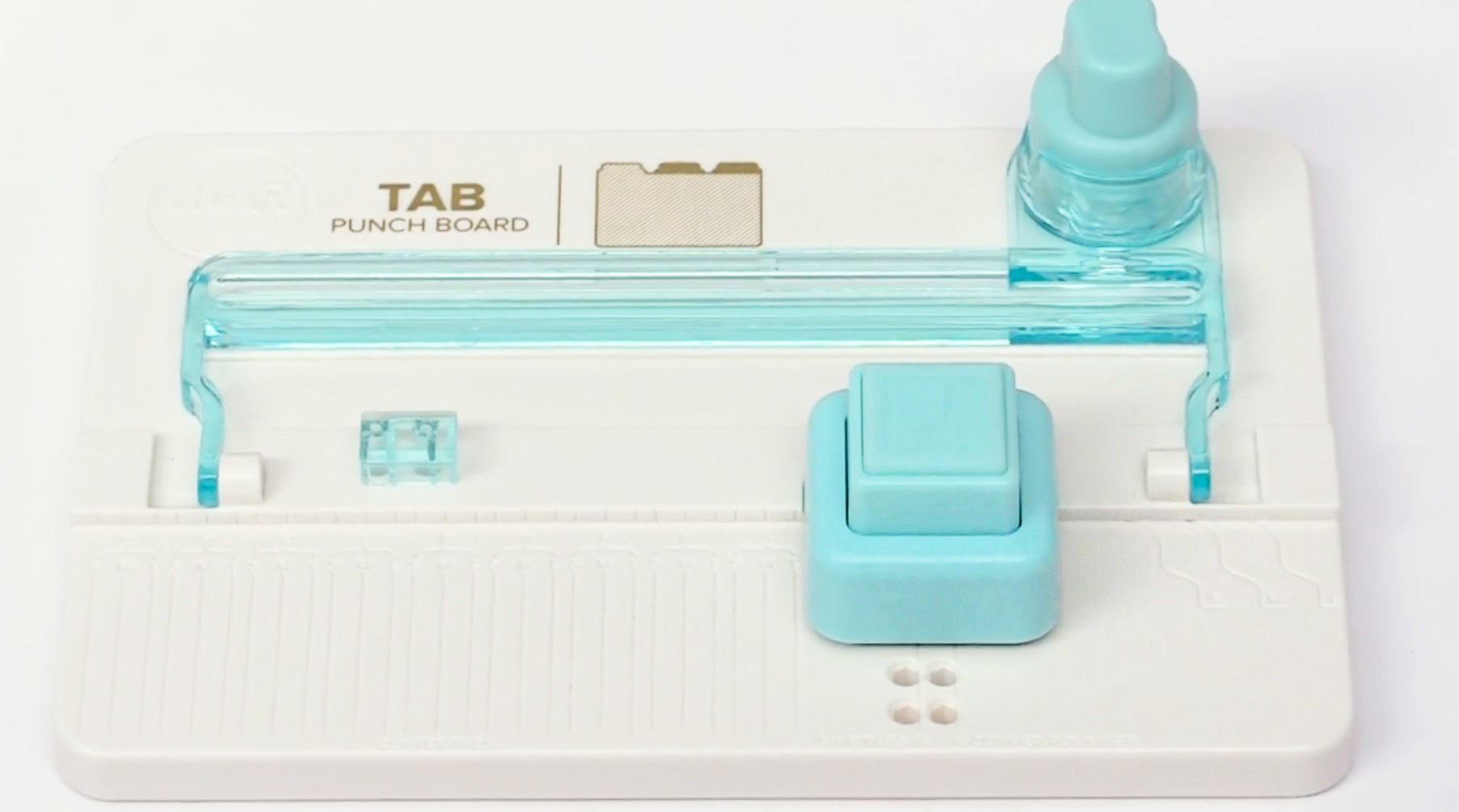 Perfect for planners, but useful for cardmakers and traditional scrapbookers alike, the Tab Punch Board will transform the way you create. This little tool gives you the ability to add tabs to any and all of your scrapbook paper and cardstock. Because the device doesn't have surrounding, raised barriers, you can create small, medium, or large tabs on any sized paper.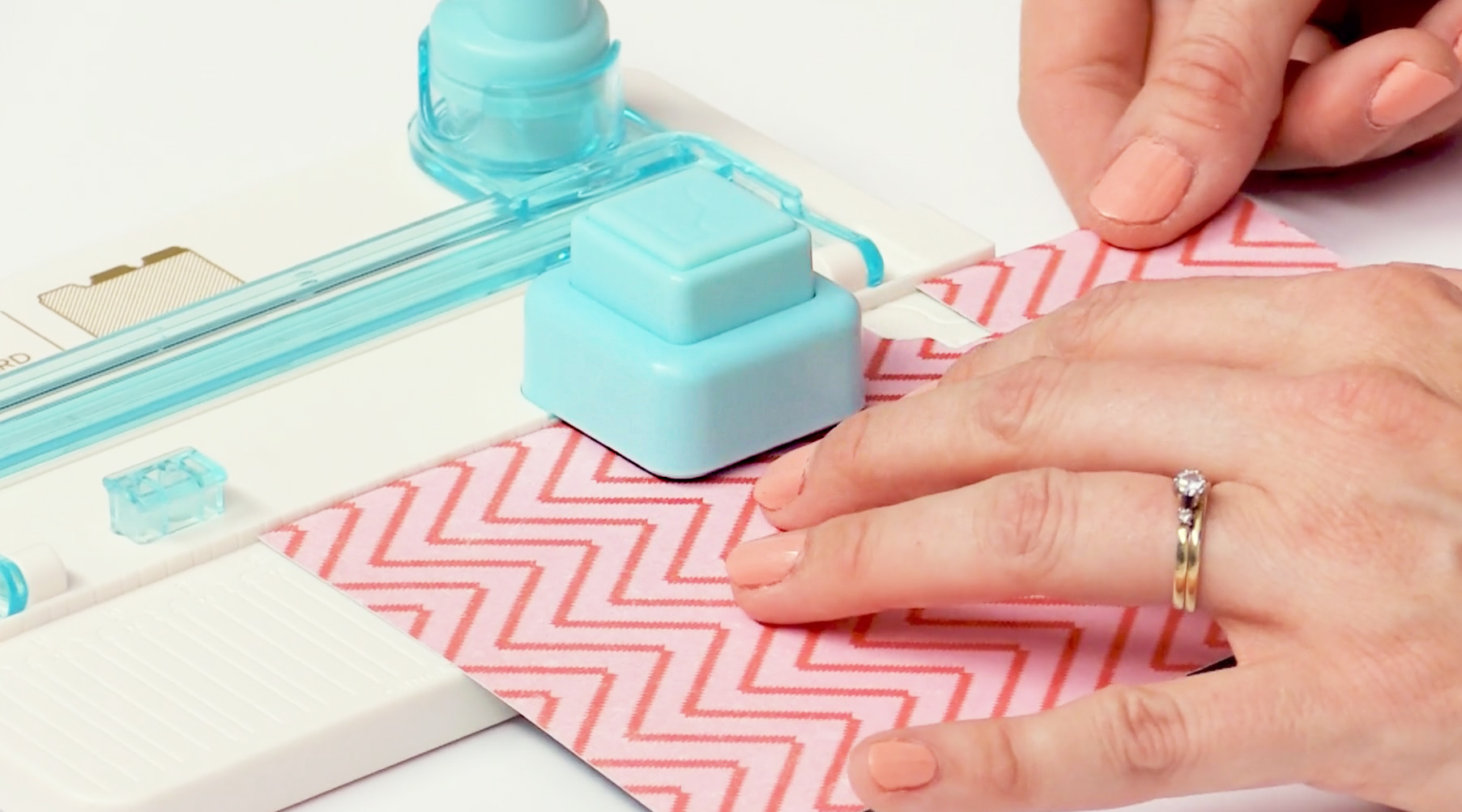 With a little measuring, attention to placing your paper, a quick punch, and the slice of the trimmer, you'll have new tabs in moments... in unlimited quantities!
The Tab Punch Board is super simple to use. Choose where you want your tab to be, punch out the negative space, slice off the excess, and voila! You have created a custom tab for your planner, pocket page, folder, recipe card... wherever and whenever you might need a little organization in your day!
In addition to this tool punching tabs and trimming, this little gizmo also has a corner rounding punch to give any and all of your projects (tabs optional) a professional finishing touch.
Because the Tab Punch Board offers so much in one, we had to add it to our list of must-have tools.
3. Planner Punch Board
This tool is truly for the planner fanatics - the Planner Punch Board from We R Memory Keepers. Literally add anything to your planner, no matter the style of planner you have. It's compact, comes with a full set of instructions, and is surprisingly easy to use. Whether you're a disc-devotee or swear by spiral, this apparatus has optional add-ons to punch the type of hole your planner requires.
Choose your spacing, line up your paper, and easily punch one hole at a time. The punch has markers that clearly show you where to place your page and punch next!
Grab the page you'd like to add to your planner and find the middle. After that, choose the correct setting on your Planner Punch Board (it comes with detailed instructions to easily set it to the option needed), then punch away! There are built in notches on the board to show you where to line your paper up next, so each punch is evenly spaced without you having to measure a thing.
If you have a planner, this tool is an essential addition to your creative repertoire, as it gives you the ability to add anything and everything into your planner: notes, letters, bills, recipes, birthday cards... the options are limitless.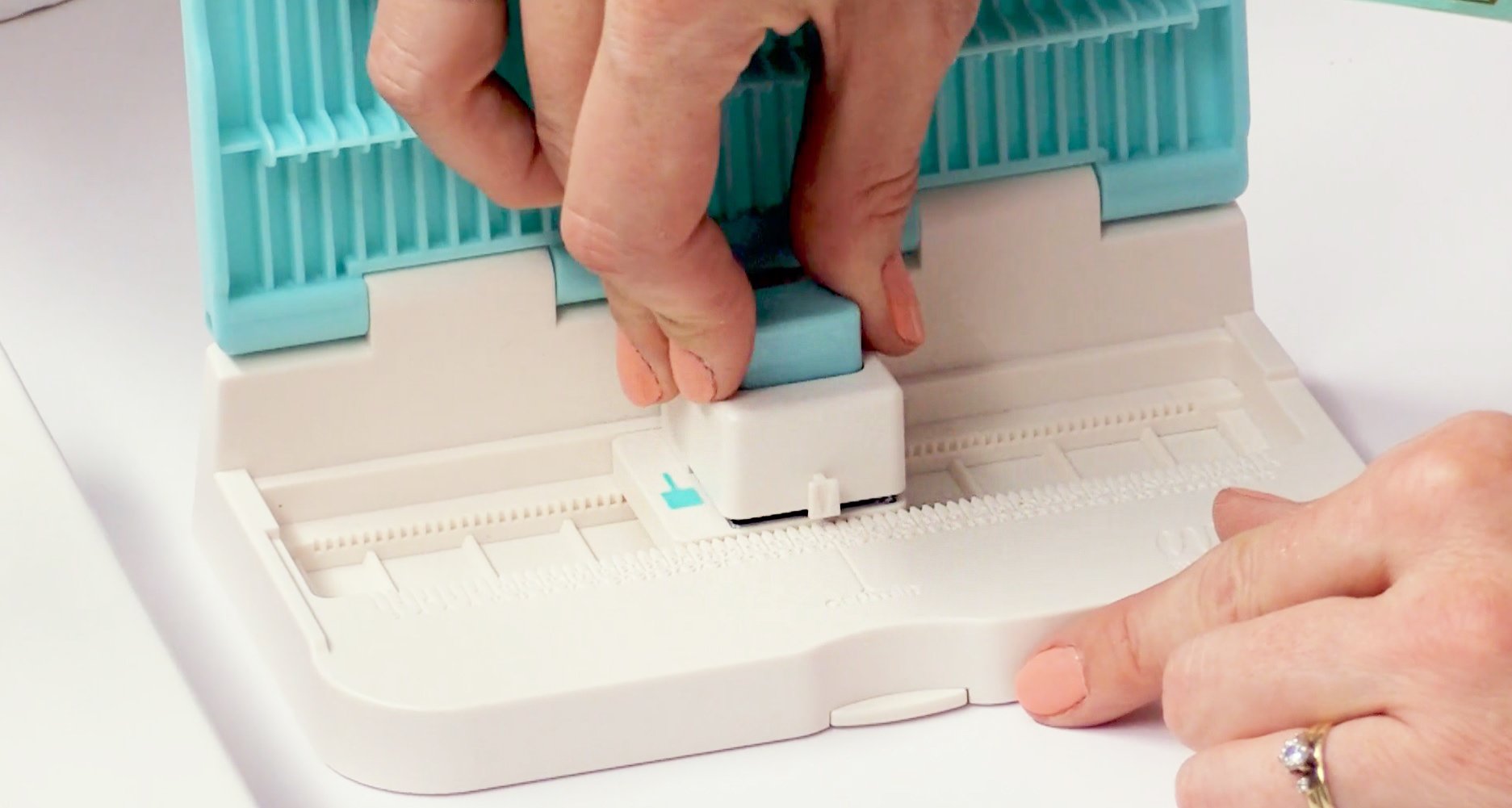 If you have a planner with discs or spirals, there are separate add-ons that can be purchased to use with the Planner Punch too. You can find them here: Disc Punch Inserts and Spiral Punch Inserts.
The Planner Punch Board made our list because of its universal ability to adapt to different styles of planners. It's small, easy to use, and makes the lives of planner-enthusiasts so much easier, if not that much more beautiful.
4. Mini Evolution Advanced Die Cutting Tool
Do you love die cutting but need something just a little bit more portable or accessible in your daily crafting life? Then you're going to absolutely love the Mini Evolution Advanced Die Cutting Tool from We R. If limited table space is your issue, consider it solved! Are you an on-the-go crafter who enjoys getting together with your craft buddies or attending a craft or crop event! Then this little machine is a 'never-leave-home-without-it' necessity!
This tiny but mighty little machine is perfect for adding just a little texture to your project or cutting out small dies. What makes it even handier is that it comes with all the small cutting plates you need, plus 2 different embossing folders, 8 nesting dies, and 50 sheets of 3" x 5" cardstock. You're all ready to go!
5. Supreme Ruler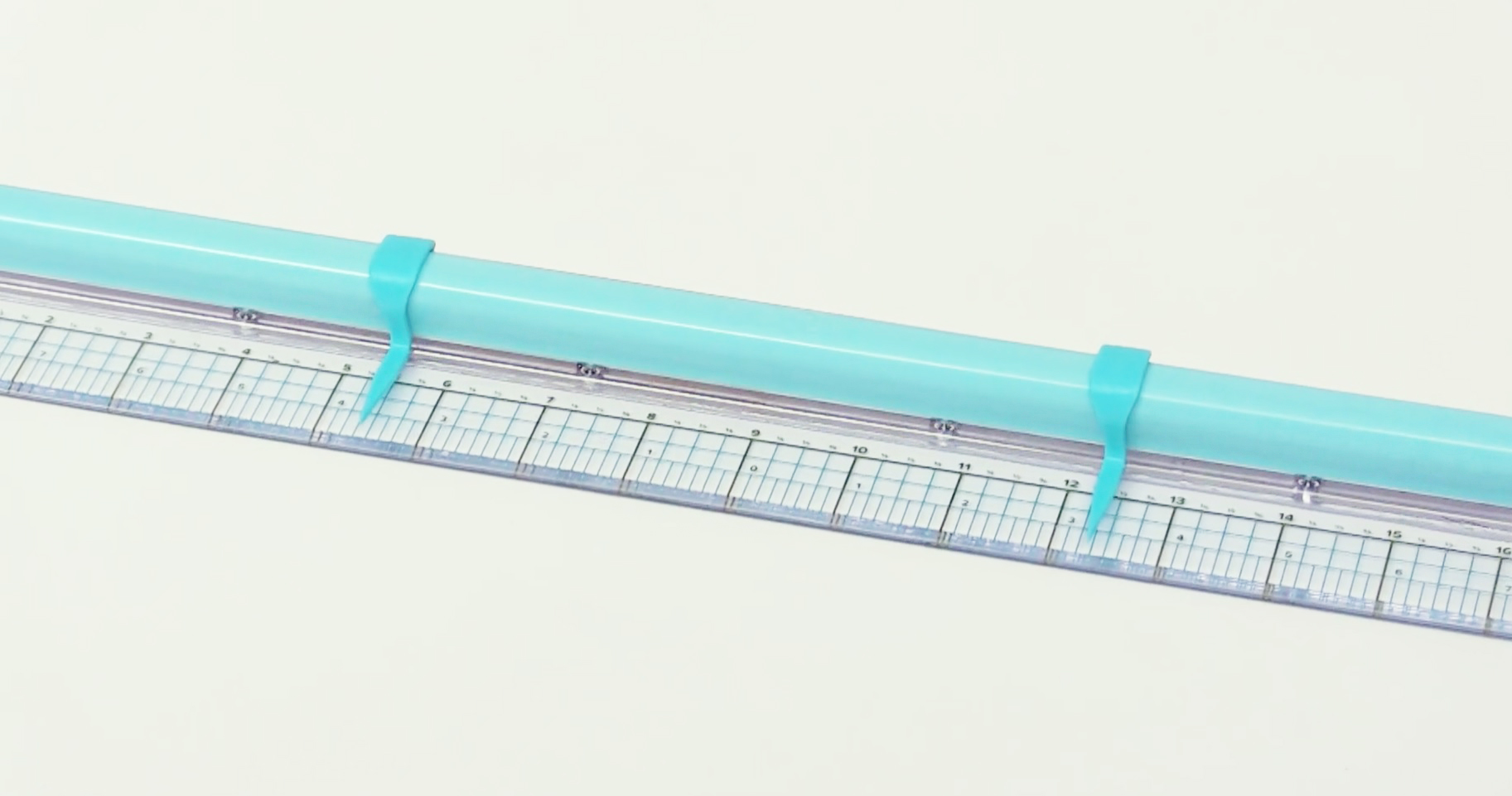 Take tedious measuring out of the picture with the Supreme Ruler. Ok, ok, there still is measuring, but this ruler makes spacing and line assessment easy and fun. At 18" x 3", this worthwhile instrument is music to our numerical ears.
The Supreme Ruler's center alignment function makes it easier than ever to find the center of your paper - for scoring, photo placement, planner-page creation, and more!
What deems this ruler supreme? Made out of transparent plastic, this tool makes it possible to see exactly what you're measuring for the most accurate value, whether you're calculating in inches or centimeters. Perfectionists world-wide rejoice! With a non-slip bottom, a safety finger guard, a double metal edge for accurate cutting, and adjustable alignment guides, this ruler gets any job done, with ease.
Do we even have to tell you why this one made the list?
6. 123 Punch Board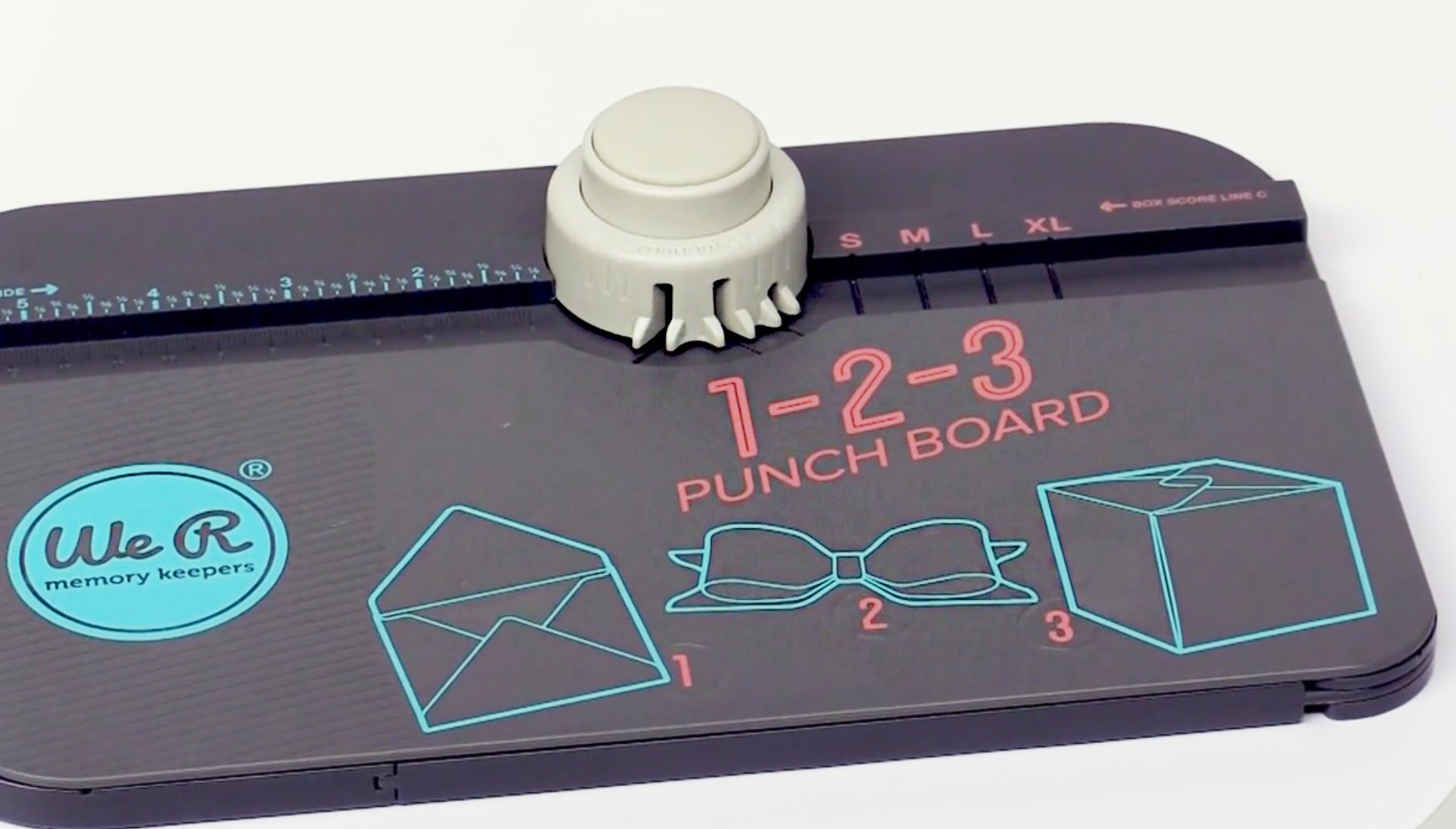 This punch board doesn't have 1 option. It doesn't have 2. It has 3! Choose between 3 papercrafting projects. Create custom envelopes (never buy envelopes again?!), beautiful paper bows, and boxes with a single punch board. That's why it's called the 123 Punch Board! Even though this board was designed to help the creative-governed construct three specific projects, a booklet is included that gives you over 200 additional projects you can also make with this gizmo.
If you love giving happy mail, the 123 Punch Board will make your life easier and ultimately less expensive, by saving you in giftmaking supplies.
To make an envelope, punch out the appropriate notches based on the included manual.
This board comes with instructions on use, so once you get the hang of it, it's a piece of cake. It includes an extender arm for simplified scoring and trouble free folding and has a corner rounder punch so you can round any of your 123 projects, or any other card, scrapbook layout, recipe card, etc. that you'd like to finish. Lastly, it also contains a corner slit punch for box making. That's 1, 2, 3, 4, 5.... oh how can we count the uses after all?!
Innovative, economically sized, and performing a wide variety of functions, the 123 Punch Board not only saves you on envelopes, boxes, and bows... it gives you an excuse to buy more scrapbook paper. And, you know what they say... you can't buy happiness, but you can buy scrapbook supplies - and that's kind of the same thing.
7. The Photo Sleeve Fuse Tool
If you're silly for shakers or a proud member of the pocket-page parade, the Fuse Tool might be your new prized possession. Simply put, this little heat tool fuses plastic together. This is revolutionary for all of us crafters who work with shakers and pocket pages, or love a little extra pizzazz on our projects!
This tool comes with a stand, interchangeable fusing and cutting tips, and a ruler with a stencil edge for fusing in straight lines!
Keep memorabilia safe by protecting it inside a fused pocket, create shakers filled with sequins, sprinkles, glitter, and more... conceal your pocket pages so nothing falls out!
Just heat up the fuse for at least 10 minutes, and you're ready to roll!
It not only helps crafters everywhere add a little extra sparkle to their handmade creations, but it's also affordable too - so it made the list.
Note: Unfortunately, this product is not available for customers outside of the United States and Canada. Read why here.
8. Confetti Punch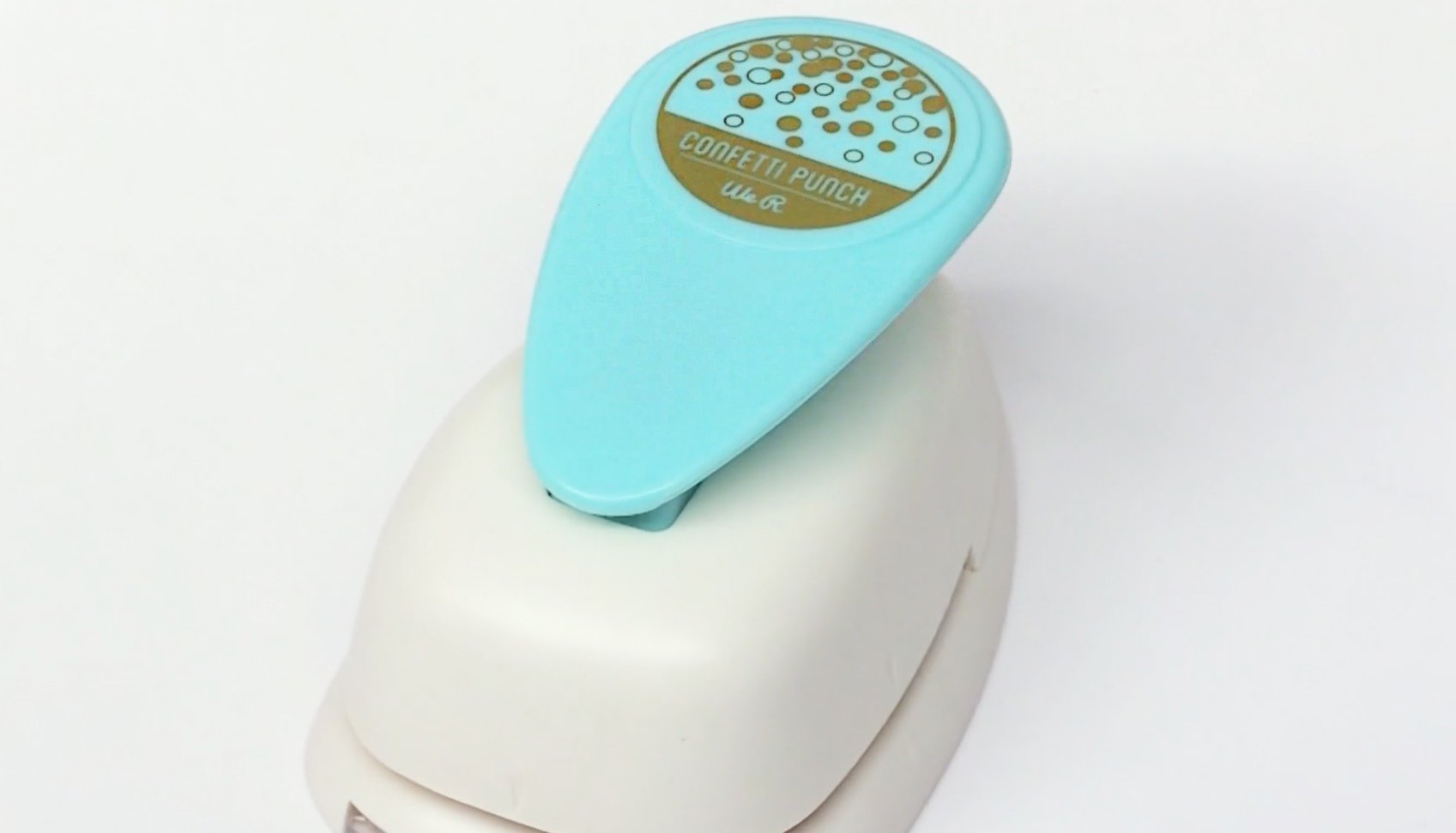 Every day is a party when you possess the Confetti Punch! Create your very own confetti with this obliging little device that creates confetti circles for your shakers, pocket pages, gift-giving, and more! With a variety of sizes of holes within, this punch creates a sprinkling of small circle sizes so your confetti looks extra-festive, unlike using a single hole punch.
If you're a collector of paper scraps that build up more than they are utilized, the Confetti Punch will help you put them to use, in a celebratory way. Just insert your paper scrap, press down, and open the tray to release your new confetti pieces!
Tip: Aly Dosdall from We R Memory Keepers recommends using double sided patterned paper with large prints to create confetti that is eye-catching and pretty no matter which way the cookie crumbles.
Because it's fun, small, helps us use up our paper scraps, and there's nothing else quite like it on the market, we had to invite this little guy to the must-have mix!
9. FUSEables Heat Resistant Mat and Holder
If you have a Fuse Tool or are in the market for one, the Heat Resistant Mat and Holder from We R is going to be of huge help to you. Because the Fuse gets extremely hot (which it needs to, in order to perform its job in a sustainable fashion), a little extra precaution is needed when using it, or any heat up tool for that matter.
This Heat Resistant Mat will protect your counter tops, desk tops, and table tops from heat damage. Not only that, it has a couple other features that makes it a must-have.
In an easy to manage 12" x 12" size, this mat can fit on most work spaces, yet also fit a 12" x 12" page. With grid lines printed onto the mat itself, you'll be able to keep your projects and their components in line, exactly where you want them to be. Plus, it comes with a handy "hanging" heat resistant holster to hold your Fuse (or any other tool) to keep it protected out of the way, but within arm's reach!
Due to its multiple functions and its purpose of keeping you and your craft space safe, we've added it to our must-haves!
10. Laser Square and Mat
Lasers are being combined with crafting tools?! This really is the future. Though it sounds straight out of a sci-fi flick, these are the days we're in! The Laser Square and Mat is a 2-in-1 instrument that provides a variety of time and effort saving functions. The lasers just take batteries. No plug-ins to fuss with or cords to potentially get in the way.
The entire unit is detachable, so you can use the rulers with the mat or without. Because of its flexible nature, the ruler portion of the device can also be used to hang gallery walls!
Each laser has a dial piece (see in the photo below, a light blue triangle that you can slide on its track) that can be adjusted to move the laser-ray where you want your embellishments, margins, or other features to be placed.
Use these simple-to-adjust lasers to make sure everything lines up, every time, without the use of a third-party ruler and pencil markings that need later be erased.
Get ready for all of your stamping, scrapbooking, cardmaking, even quilting projects to get a little bit easier to create with the Laser Square. With measurements in Metric as well as Imperial (U.S. Standard), this tool is universal. Along with the measurements on the side ruler bars, the mat has grid lines too, as well as pops apart like a puzzle piece for no-fuss storage when it is not needed.
Love the We R Laser Square but want something a little smaller and more convenient for your small space? Then the Mini Laser Square is just for you! At about half the size of its namesake, but with all the laser-aligning power and helpfulness, this new little tool will ensure all your stamps, handwritten sentiments, and dies get aligned perfectly every single time!
Line up your projects, hang those gallery walls, and leave pencils marks a tribute to the past with this must-have tool.
11. Frame Punch Board
For the crafter who can't put her phone down at every event - because she's taking pictures, of course - this addictive little mechanism was created with you in mind. The Frame Punch Board makes it possible to easily create frames in a variety of shapes and sizes for your layouts, cards, mini-albums, journals, and more!
In 3 easy steps, you can create frames for all of your printed photographs, journaling you want to feature, sentiments for cards, and anything else you can dream up to fit in your DIY borders!
The Frame Punch Board comes with all of the instructions you need to get creating your quarter inch, half inch, Polaroid style frames, and more.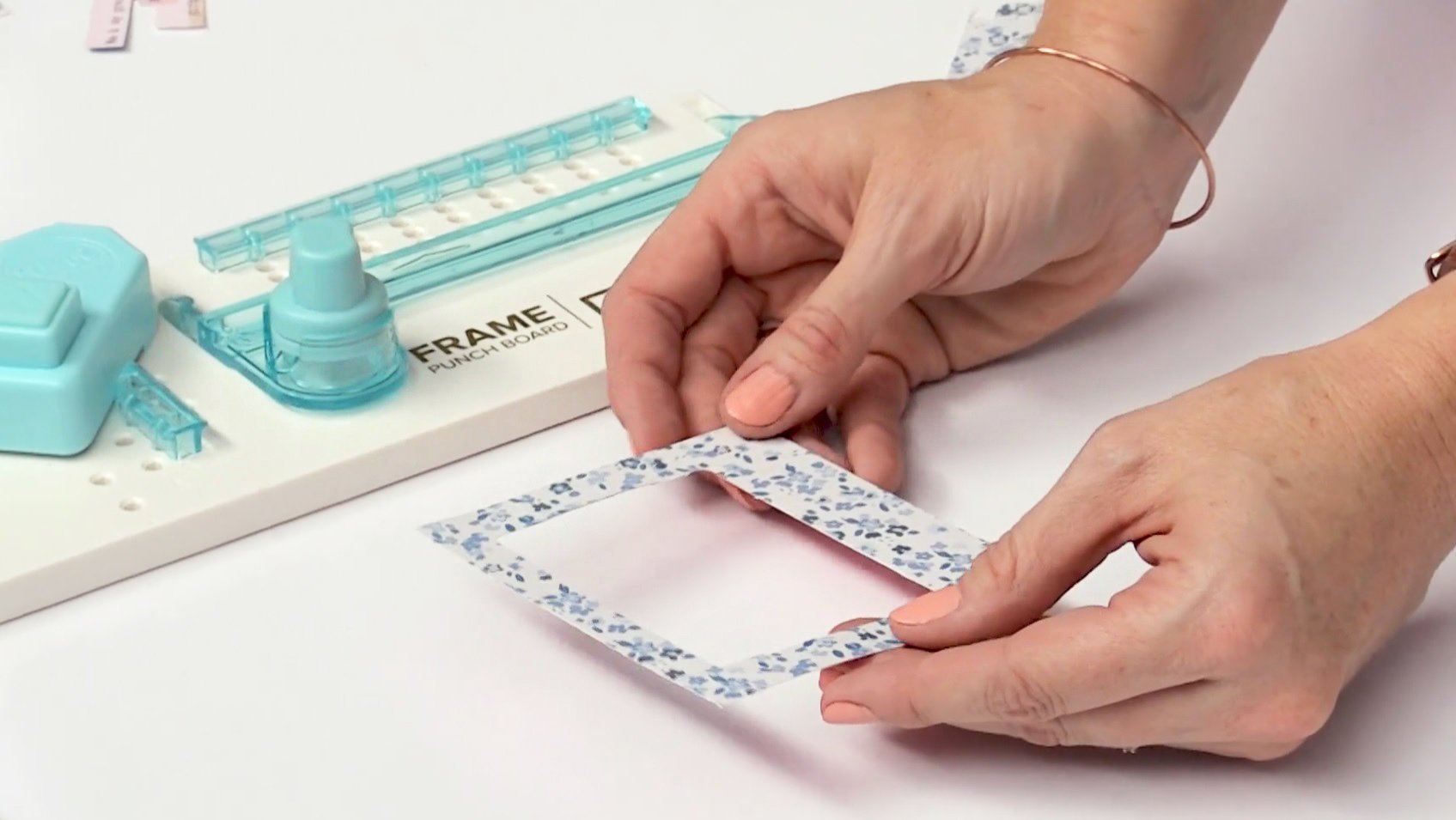 In a practical size, a user-friendly weight, but with all of the quality you'd expect from a We R product, the Frame Punch Board is a must for papercrafters of all classifications.
12. Crop-A-Diles: Big Bite and Corner Chomper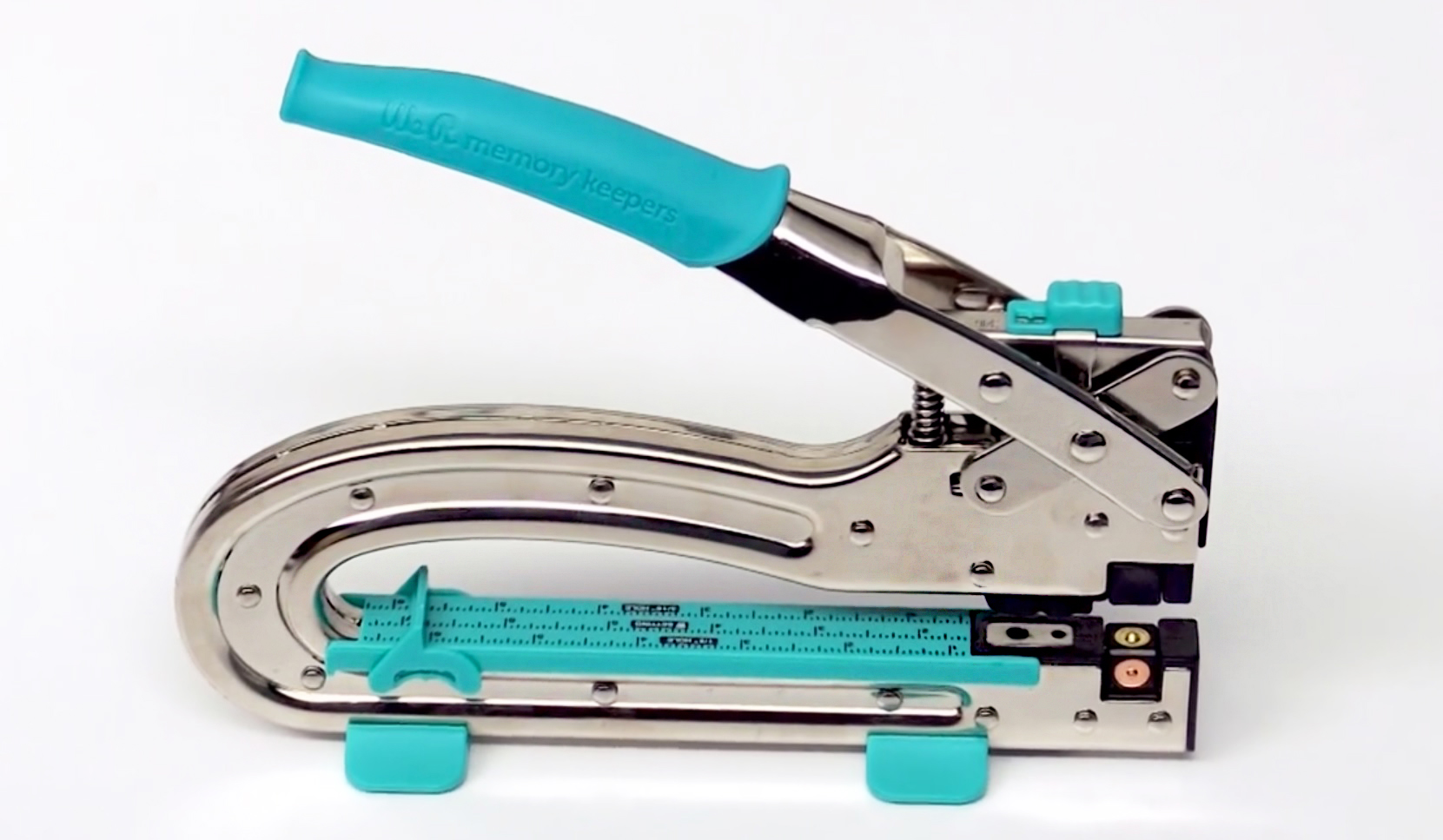 Finally. Can we all just inhale the former struggle and exhale the relief of the Big Bite? This tool makes it possible to staple, punch holes for brads, set eyelets, grommets, snaps, and more in the center of a 12" x 12" page?! It's true. This useful tool has a 6" reach.
Adjust the settings to your needs based on the instructions from the manual, then punch, set, and snap away!
The Big Bite comes with a variety of settings to utilize based on your needs, and directions on what those settings are. No matter the type of embellishment you're using, you'll love how much this tool helps you out.
Finish the edges of your papercrafting projects, whether they be layouts, cards, planner inserts, or more, with a quick punch of the Crop-A-Dile Corner Chomper! This tool has all of the power you need to punch through cardstock, paper, chipboard, acrylic, leather, and more. Its bite is mighty, but this tool is totally user friendly and intuitive, though it does come with instructions.
This gadget is a 2-in-1 tool, giving you the option between quarter inch rounded corners and half inch. Plus, it collects all of the cuts in a small, built-in receptacle that you can empty at your leisure. No more trying to grab up those itty-bitty paper pieces that always seem to sneak away!
With foldable corner guides that help you keep your paper in place so your cut is centered, plastic guards that protect your fingers from the Crop-A-Dile's mighty bite, We R Memory Keepers has thought of everything for this ground-breaking (or should we say, corner rounding) punch!
Because this hand tool has two options in one and helps our projects look clean and finished with ease, the Crop-A-Dile Corner Chomper had to be added to the list of crafting must-haves.
13. Brad Setter and Piercing Tool
Pierce and set your brad in four easy steps with the Brad Setter and Piercing Tool. Whether you embellish with the occasional brad or use them so much you're considering legally changing your name to Mrs. Brad, this tool will save you a lot of trouble.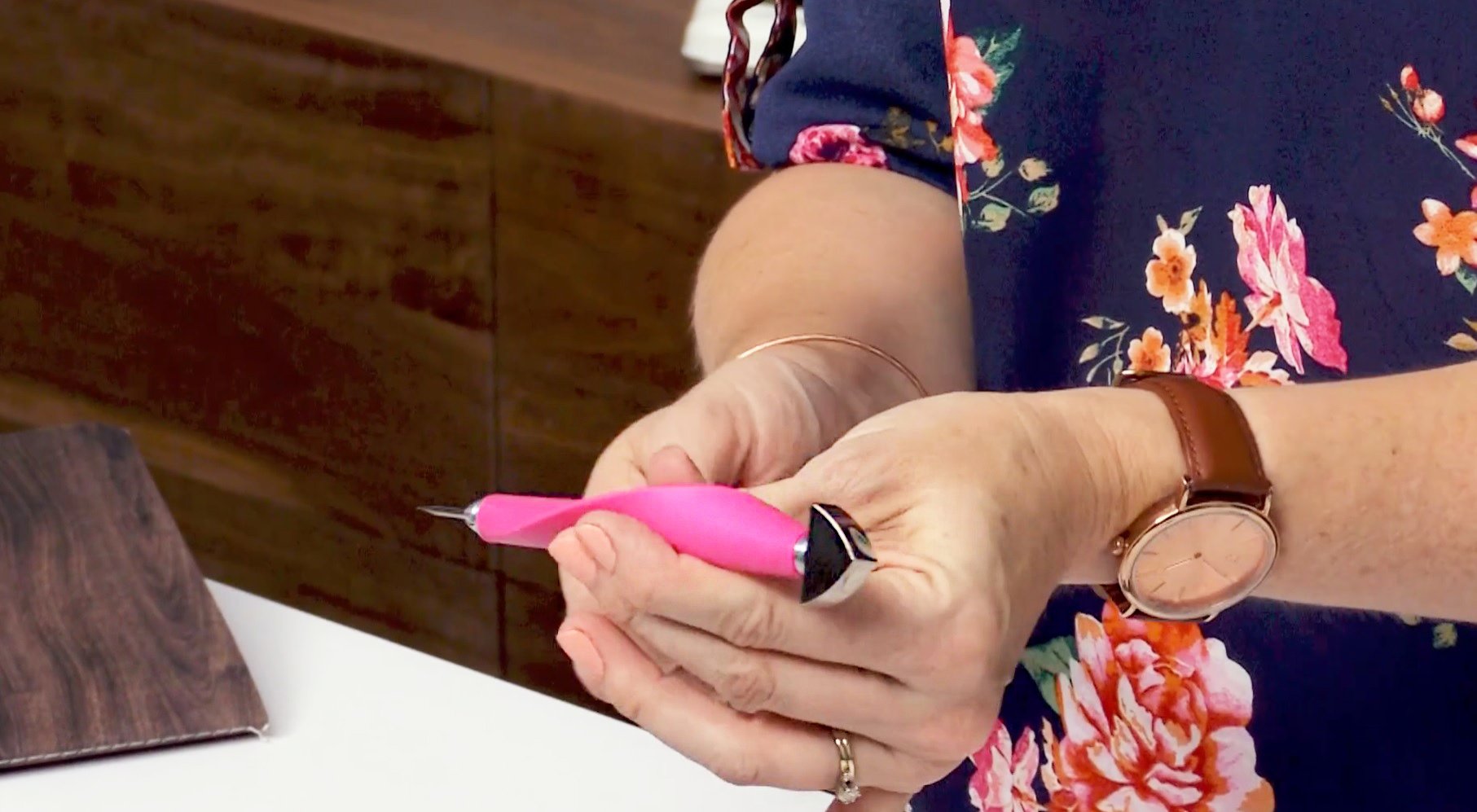 One end has a sharp piercer with a protective case for storage and safety, the other end has a strategically designed triangular head for setting.
Step 1. Pierce a small, clean hole through your paper
Step 2. Insert brad
Step 3. Use the chunky-triangular end to spread apart the brad's prongs
Step 4: Rock the triangle back and forth to flatten the prongs against your paper, thus securing your brad!
This apparatus has made our list for a couple reasons. Even though it was created to serve one purpose, a piercer can help you in so many ways, outside of brad setting. Second, the one purpose it does serve, it serves remarkably well. Those who find it difficult to open the prongs or are tired of finding the nearest thumbtack to poke a hole hardly suited for the size a brad, this tool will end up saving you time and wear-and-tear to your fingernails and tacks!
14. Stitch Happy Sewing Machine
This is the appliance that any scrapbooker or cardmaker who has a fondness for the stitched effect is sure to adore. The Stitch Happy Sewing Machine was created specifically for papercrafters, offering some characteristics not found on a standard seamstress' sewing machine.
First, the Stitch Happy has a white alignment guide to keep your paper or project in line, keeping all of your lines as straight as you would like them. Because this machine was made with papercrafters in mind, it designed to work with thick twine, metallic thread, and other bulkier threads that would typically jam up in your everyday sewing machine. It also has an enhanced motor to go through thicker materials!
Use the practical white aligner to make sure you're stitching exactly where you intended!
Even though this mechanism has features that aren't standard on your typical machine, the Stitch Happy still works exactly how'd you expect it to. Thread your chosen twine, floss, etc. through the needle and choose your stitch pattern on the setting dial. Set the needle, align, drop the foot, then sew away!
This machine is lightweight for easy carriage, yet sturdy and strong. It also has a useful pull-out drawer to store relevant items you might need during use. Plus, it comes in mint or a cotton-candy pink, so it's sure to be a stylish conversation piece in your home as well!
Long gone are the days of hand stitching and/or cautiously using your sewing machine deemed for fabric to add unforgettable embroidering to your paper projects with the Stitch Happy!
15. The Cinch Bindery Tool
If you have ever wanted to create custom journals, notebooks, cookbooks, or anything spiral bound, but were lost as to exactly how you were going to accomplish that with relative ease... the answer is here. It's a cinch with The Cinch! The Cinch is an incredible tool that binds anything and everything. It may look a little confusing with the myriad of toggles and numbers, but do not let that sway you.
With a surprisingly easy (yet functionally vast) chart, you'll be able to choose very specific settings to get the exact spiral bound size and spacing you desire.
With the settings on the platform, you won't have to worry about misplacing them or digging around to find them!
All you have to do is choose your setting based on the chart and it will tell you exactly which toggle to move. Because of its power, it can punch through multiple cardstock pages (5-6) at a time, and chipboard (singles). Place the edge of your project inside the cinch and pull down the lever to create your holes in one, easy go.
After you have punched your holes, you can cut spiral wire (sold separately) to put through the holes. Just count the number of holes you punched (for example, 11), then count the spiral rings and cut the same number. The Cinch has a hooked side to hang your spiral wire so you can easily put the covers and pages in, without having your spirals roll around the table!
Place your open spirals with your pages on them into the opening in the back of your machine, adjust the setting based on the chart, and press down to clamp your newly spiral bound project closed!
The Cinch has filled a need we crafters have had for a long time and has made it easier than ever to create and give irreplaceable, cherished gifts.
16. The Ultimate Tool Kit
We couldn't complete our list of must-have tools without including the Ultimate Tool Kit from We R Memory Keepers. Let's go through the list of these tools and talk about why they are included in this essential kit for crafters. We start with a dual-purpose trim and score board that allows for trimming sheets of paper large and small, and also scoring them exactly where you need them with absolute precision. That's where the large bone folder comes in as well. Get crisp, perfect lines on your handmade cards in seconds using this handy scoop-style tool!
Next you have a 12" cutting mat so that you don't end up with knicks and slices in your desk or table and a couple very handy cutting tools. There's the super sharp craft knife, and the very versatile rotary cutter for navigating some loops and swirls, along with large paper scissors and some small precision scissors for creating fussy cut creations!
To round out your essentials, there's a standard 12" ruler, a sticky piercer for punching precise holes and working with brads, and a large tape runner adhesive for getting all your handiwork adhered at just the right place on your project. With so many amazing tools all in one place, this is really a one-stop-shop for all your essentials!
---
This article is based in part on a class taught by We R Memory Keepers Designer, Aly Dosdall. See the full class here. Do you love seeing articles about the top tools for crafters? Then be sure to check out Tips, Tricks, and Tools to Improve Your Crafting and Must-Have Manual Die Cutting Accessories!
---